Ohio State University Professors Say Spring Semester In-Person Learning Doesn't 'Feel Safe'
As college students across the U.S. return for the spring semester, instructors at one school are raising concerns about in-person teaching.
With roughly 62,000 students flooding back onto campus, some professors at Ohio State University are uneasy about the safety of in-person learning, questioning if it's wise to return to the classroom amid the ongoing Omicron-fueled COVID-19 surge.
"This was the weird thing today," Guy Rub, a professor at OSU's Moritz College of Law, told Columbus news station WCMH-TV. "It was so much fun to be in person and to have so many people together, but it's also, I'm not sure it serves the community at large."
Rub highlighted the rising COVID case numbers in Ohio and the packed hospitals while making his case for remote learning. According to the Centers for Disease Control and Prevention (CDC), the Buckeye State has seen over 134,000 new cases of the virus in the last seven days. While appreciative of the safety measures that have been taken by the school, Rub nonetheless thinks they should hold virtual classes for the first few weeks of the semester.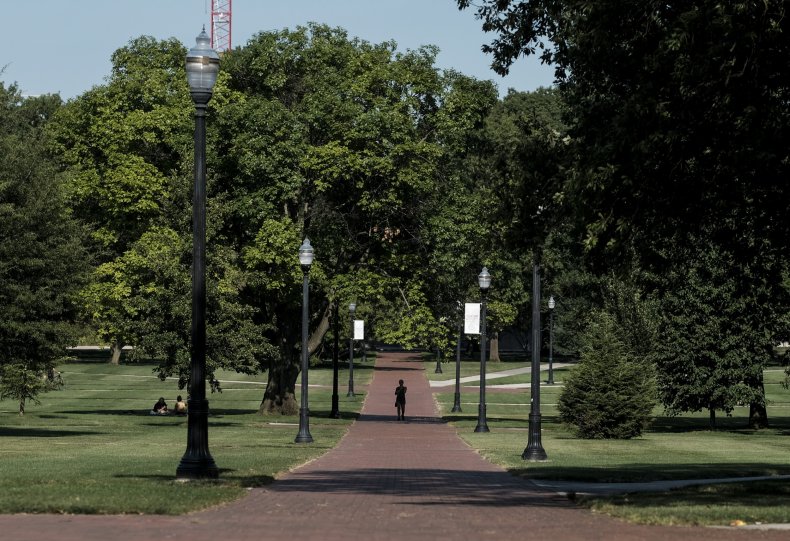 "If someone needs to be in the lab, the lab will be in-person, while if someone needs to hear a lecture, the lecture can be on Zoom," he told WCMH. "I think that would make more sense versus one size fits all, which does not fit all."
One of Rub's colleagues at OSU, Professor Katrina Lee, expressed similar sentiments on Twitter. Instructors from other law schools expressed their sympathies in the comments.
"I've spoken w a few profs at law schools that are virtual for now," Lee wrote on Sunday. "They were concerned I'm teaching in person tmw. I do love being in the physical classroom. But somehow OSU imposing in-person mode on students & profs this week doesn't feel safe or supportive or understanding."
As part of the university's plan to keep people safe, all students and staff at Ohio State are required to wear face masks indoors and students will be tested for COVID weekly regardless of their vaccination status. Food halls are also operating strictly as grab-and-go.
When reached by Newsweek, the university highlighted the fact that 92.5 percent of its students and staff members are vaccinated against COVID-19. It also noted that the concerns raised are from only a few of the university's 7,500 faculty members, and that its decisions about COVID protocols for the spring semester have been made "in consultation with University Senate, which includes students, faculty and staff."
"We are monitoring closely and will adjust our health and safety protocols if needed based on the latest scientific data and public health guidance," the school said in a statement to WCMH.
In December, Inside Higher Ed reported that major universities like DePaul, Harvard and Stanford would be holding virtual classes for the first few weeks of the spring semester. Pennsylvania State University, the University of California Los Angeles, and the University of Southern California were reportedly considering a similar move at the time.
Correction, 1/15/2022, 10:35 a.m. ET: This article was changed to show accurate attendance figures and food-hall policies at Ohio State University, and to add responses from the school.