Ohio State's Chase Young Is Top 4 Favorite Among Sportsbooks To Win Heisman Trophy After Record-Setting Game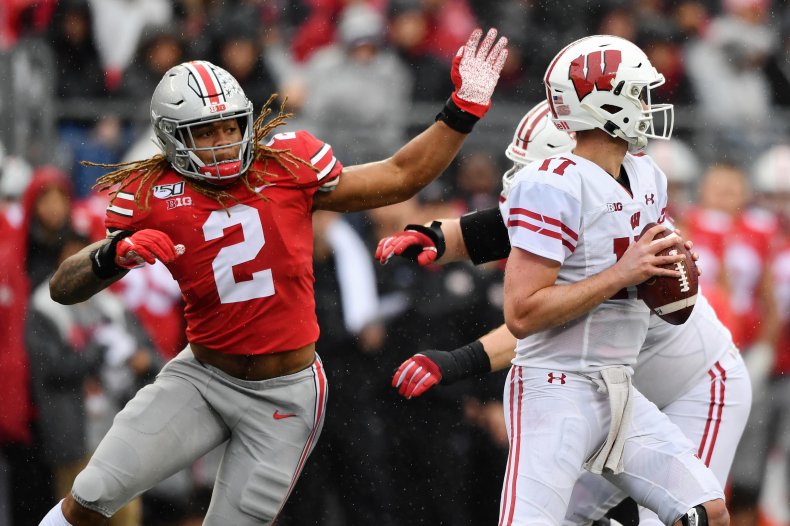 In his return from serving a two-game suspension, Ohio State defensive end Chase Young not set a new school record, but jumped into the top four choices for the coveted Heisman Trophy.
During the Buckeyes 28-17 win against Penn State on Saturday, Young recorded three sacks, bringing his season total to 16.5, which broke the school's single-season sack record of 14, set by Vernon Gholston in 2007.
After being forced to sit out two straight games for violating NCAA rules by accepting a loan from a family friend, Young told ESPN that he "was itching to get back on the field."
Young's dominant game on Saturday, which includes 3 sacks, 2 forced fumbles and 9 total tackles, has put him back in the conversation for the Heisman. He has helped lead the Buckeyes to an 11-0 record and could become the first defensive player to win the trophy since former Michigan Wolverine and NFL Hall of Famer, Charles Woodson did it in 1997.
Young is currently listed at around the third favorite to win the award according to a few different sportsbooks. Fanduel currently lists Young at +2000 odds, DraftKings gives him +900 odds and BetOnline has him at +1400. Young will look to add to his Heisman resume and his season sack record when the Buckeyes take on the Michigan Wolverines on November 30.
LSU's Joe Burrow continues to lead the charge as the outright favorite to win the Heisman. He has led his team to an 11-0 record while throwing for 327 total yard and 3 touchdowns in his most recent outing against Arkansas. Across the entire season, he has thrown for 41 touchdowns and 6 interceptions.
Fanduel sportsbook gives Burrow -1000 odds to win the trophy, DraftKings gives him -1430 odds, and BetOnline gives him the most likely odds to win with -3000. Burrow and LSU are set to take on Texas A&M on November 30.
Young's teammate Justin Fields is currently the second favorite to win the trophy behind Burrow. The Ohio State quarterback has helped lead the Buckeyes to their undefeated record. Fields has thrown for 33 touchdowns and just one interception, bringing his season quarterback ranking (QBR) to 93.2, which is second behind Alabama's Tua Tagovailoa.
Fields is currently listed with +1100 odds on Fanduel, +1000 odds on DraftKings and +800 on BetOnline. Fields will look to improve on his already strong season in the Buckeyes upcoming game against Michigan.
Falling in at the last of the top four spots for the Heisman odds is Oklahoma quarterback Jalen Hurts. The Oklahoma Sooners have a record of 10-1, making Hurts the only member of the top four to have a loss under his belt. Despite the loss, Hurts has still been dominant, throwing for 3,184 total yards and 30 touchdowns throughout the season.
Fanduel gives Hurts +2500 odds to win, DraftKings gives him +2200 and BetOnline gives the quarterback +2000 odds. Hurts can improve on his season and his Heisman resume when he leads the Sooners to face the Oklahoma State Cowboys on November 30.