Ohio Supreme Court Denies Appeal of Former Officer Timothy Loehmann, Who Killed Tamir Rice
The Ohio Supreme Court on Tuesday declined to accept the appeal of a lawsuit brought by the Cleveland police union representing Timothy Loehmann. The former officer, who shot and killed 12-year-old Tamir Rice in 2014, is now likely left without any other chances for reinstatement on the police force.
Rice had been playing with a pellet gun outside a recreation center when Loehmann fatally shot him. The City of Cleveland later fired Loehmann in 2017—but not for killing Rice. Instead, he was dismissed from the police department for giving false information on his job application. It was determined he failed to disclose that supervisors from his previous job with the police department in Independence, Ohio, recommended his firing after finding him unfit for police work.
An arbitrator and a county judge upheld his dismissal.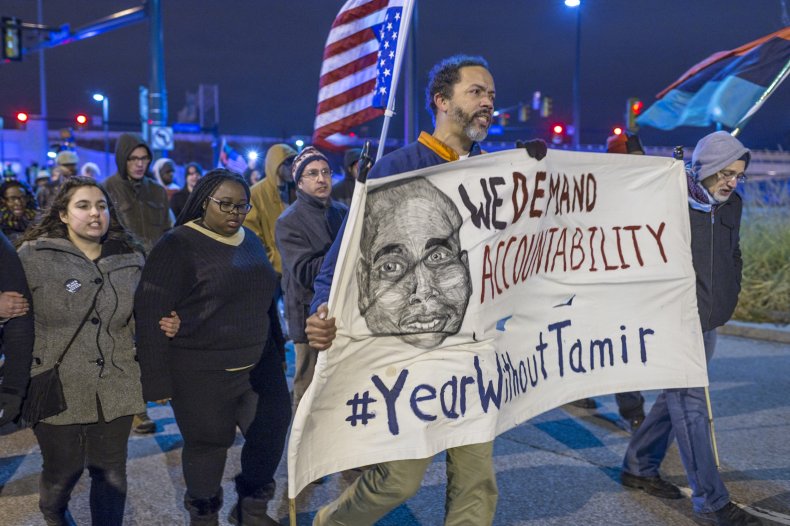 The Cleveland Police Patrolmen's Association's attorneys filed the appeal in April with the state's Supreme Court after the 8th District Court of Appeals in Cuyahoga County dismissed an appeal from the union in March. The reason for the previous appeal dismissal was cited as the union failing to properly serve notice on outside attorneys hired by the city.
Loehmann was a rookie officer with the Cleveland Police Department when he shot Rice within seconds of arriving at the scene. He and his partner were responding to a call from a man who said someone was waving a gun around at a recreation center. The man also told the 911 dispatcher the gun was "probably fake," and that the person holding might be a juvenile. That information was reportedly not related to the responding officers.
A grand jury declined to indict Loehmann, and he was never charged for a crime in the killing. Fellow patrolman Frank Garmback, Loehmann's partner and the driver on the day of the shooting, was also not charged. Both officers were criticized for waiting four minutes to deliver first aid on the child after he was shot.
Cleveland later settled a lawsuit with Rice's family for $6 million in 2016.
The United States Department of Justice decided on December 29, 2020, that it would not bring criminal federal charges against Loehmann or Garmback. The Department announced that it did not condone the officers' actions but said there was not enough sufficient evidence to charge either man with a crime. It further noted that poor-quality obscured video of the shooting and lack of audio affected the decision to not prosecute the officers.
Rice's killing received widespread media attention and has been cited as an early defining moment in the Black Lives Matter movement.