Ohio, Texas and Other Battlegrounds for Abortion Rights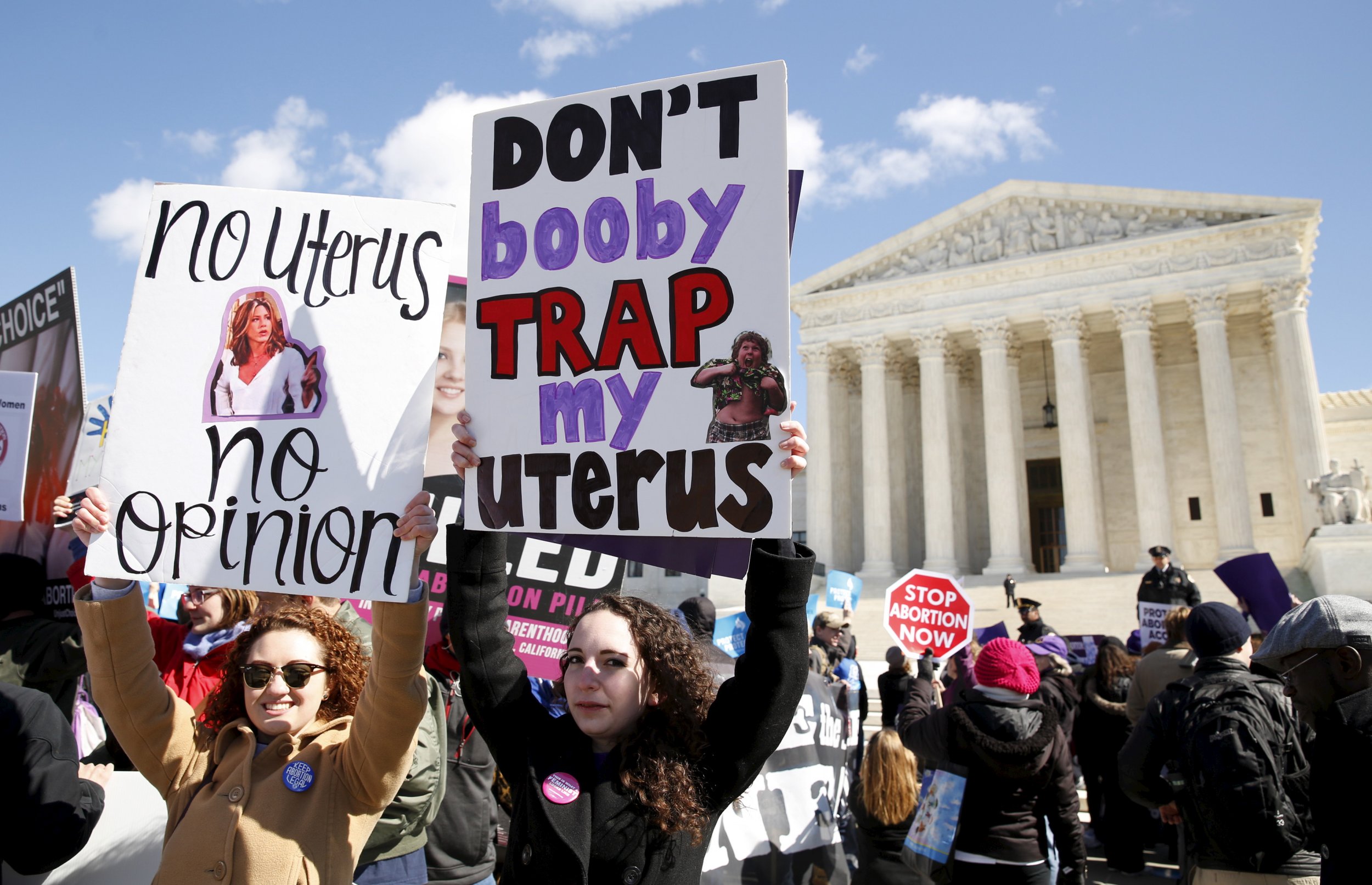 With just over a month to go before President-elect Donald Trump is sworn into office, abortion rights advocates have reason to be fearful. During his campaign, Trump said he supports banning abortion and at one point said women who have abortions should face "some form of punishment." He also vowed to put an anti-abortion judge on the Supreme Court, which could result in Roe v. Wade, the landmark 1973 Supreme Court decision that made abortion legal in the U.S., being overturned.
"We are expecting to see more states passing total bans on abortion," Amanda Allen, senior state legislative counsel at the Center For Reproductive Rights, tells Newsweek. "We're expecting to see restrictions or bans on the most common procedure in the second trimester, and enactments of more of these requirements that are designed to shame and stigmatize abortion patients and keep access out of reach for many."
Related: Trump victory threatens abortion rights
The New York City-based Center for Reproductive Rights, the American Civil Liberties Union (ACLU) and Planned Parenthood recently filed three lawsuits challenging abortion restrictions in Alaska, Missouri and North Carolina. Other states that are sure to be battlegrounds for abortion rights during the 2017 legislative session follow:
Texas
New rules put forward by the Texas Department of State Health Services will require fetal remains to be buried or cremated by abortion clinics or hospitals. The rules, which go into effect on December 19, cover women who had abortions and those who suffered miscarriages.
"It's very troubling that Texas continues to waste taxpayer resources putting forth these type of restrictions, whether through state agencies or the legislature, and potentially defending them in court," says Allen. She adds that the Center for Reproductive Rights is expecting to see more legislatures attempt to pass bills dealing with fetal remains, as well as legislation that seeks to "double or triple the current state-mandated waiting periods" for abortions.
The Texas rules on fetal remains come after the state lost a landmark Supreme Court case earlier this year. The high court ruled that abortion restrictions must be justified by credible medical evidence. Justice Stephen Breyer wrote that "there was no significant health-related problem" addressed by new rules that abortion doctors had to have admitting priviledges at local hospitals and that clinics had to have hospital-like standards. The rules instead posed "a substantial obstacle to women seeking abortions, and constitutes an 'undue burden' on their constitutional right to do so," Breyer wrote.
Texas officials also released an updated abortion booklet, A Woman's Right to Know, which erroneously claims that there's a link between abortion and breast cancer, and ties the procedure to depression and suicide. Trump's pick for secretary of health and human services, Representative Tom Price, is a member of the Association of American Physicians and Surgeons, an organization that promotes the debunked link between breast cancer and abortion, as well as the unfounded link between vaccines and autism. The American Cancer Society states on its website that "scientific research studies have not found a cause-and-effect relationship between abortion and breast cancer."
Ohio
Ohio made national headlines this week after lawmakers passed the "heartbeat" abortion legislation. If enacted, it would be illegal for a woman to procure an abortion once a fetus's heartbeat is detected, which could be as early as six weeks into her pregnancy. In many cases, this is before a woman even knows she's pregnant. The bill was included as part of a wider bill on child abuse and neglect.
On Thursday night, the Ohio legislature passed another abortion bill, this time banning the procedure after 20 weeks. Both bills are now in the hands of Governor John Kasich. The bills do not include exceptions for women who become pregnant via rape or incest.
Tennessee
The case of Anna Yocca, a 32-year-old Tennessee woman who faces felony charges after attempting an abortion using a coat hanger, was brought to national attention last month. She was first charged with the attempted murder of her unborn fetus in December 2015 and faced new charges late last month after spending the last year in jail. She was arraigned on new charges of aggravated assault, attempt to procure a miscarriage and attempted criminal abortion in late November. The baby, a boy, was delivered alive.
Her case is reminiscent of that of Purvi Patel, an Indiana woman sentenced to 20 years in prison for taking abortion-inducing drugs that killed her premature infant in 2013. Earlier this year, Patel's 2015 feticide conviction was overturned by the Indiana Court of Appeals. The state's 1979 law had previously only been used against people who attacked pregnant women.
Arkansas
Arkansas legislators are seeking to ban what abortion advocates say is the most common procedure used in second-trimester abortions: D&E, or dilation and evacuation. Critics call it "dismemberment abortion." House Bill 1032, otherwise known as the Arkansas Unborn Child Protection From Dismemberment Act, seeks to ban the procedure, and to impose a six-year prison term and a fine of up to $10,000 fine for performing D&E. State Senator Jason Rapert said he plans to submit a resolution that calls for a national convention to be held on adding a constitutional amendment defining life as beginning at conception.
Elsewhere, Iowa and Kentucky "pose significant new threats" to abortion rights, says Allen. "There are conservative majorities in both houses in the legislature there and some firewalls that were previously in place that blocked harmful anti-abortion legislation are no longer in place in those states. We could see a wave of new restrictions advance and even pass next session."
Allen says that like Texas, North Dakota is considered a hotbed of severe abortion restrictions. In 2013, the state was the first to pass the six-week abortion ban, although it was struck down by a federal appeals court in 2015. "North Dakota certainly does play a role as being at the forefront of some of the more extreme abortion restrictions, but we don't have a sense yet of what those might be next year," says Allen.
Finally, Wisconsin this week became the first state to approve anti-abortion license plates.
At the federal level, the U.S. House of Representatives voted last week to double the budget for the Select Investigative Panel on Infant Lives. The purpose of the panel "is to gather information and get the facts about medical practices of abortion service providers and the business practices of the procurement organizations who sell baby body parts," according to its website. The 14-member panel, led by Tennessee Representative Marsha Blackburn—who met with Trump last week—requested an additional $800,000 for its investigation. By the end of the year, the panel will have spent more than $1.5 million.
Last week, House Minority Leader Nancy Pelosi called the Select Panel a "highly partisan witch hunt aimed at undermining women's health care and life-saving medical research."
Read more on Newsweek.com:
-Trump's confused thinking on abortion, marriage equality
-Protest against Polish abortion ban comes to New York
-War on Women fuses feminism and hardcore punk