Ohio Train Derailment Cover Up of Contaminated Soil Raises Questions
The overall safety of the communities situated closest to a train derailment that occurred earlier this month has been called into question by environmental soil experts.
The Norfolk Southern transport company train derailed near the Ohio town of East Palestine, carrying about 150 cars, 20 of which contained hazardous material.
A huge fire ensued, sparking fears that the crash could ultimately result in a massive explosion that would release noxious gases into the area.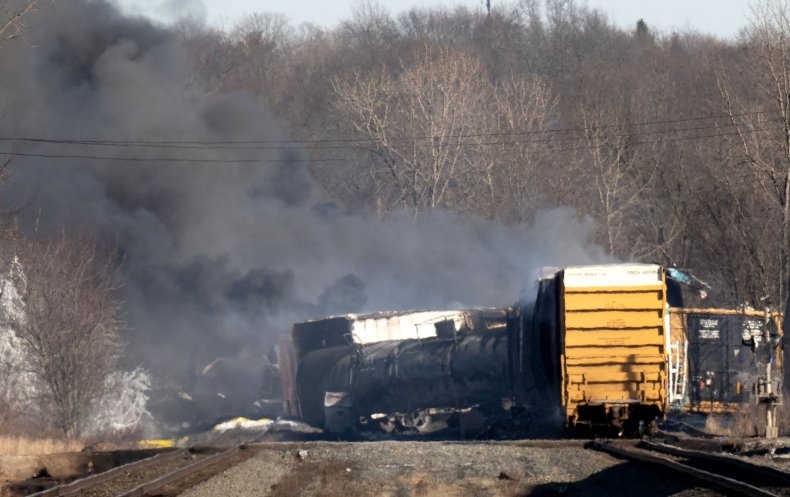 Emergency responders were able to mitigate this possibility by intentionally breaching five cars to let out the chemicals inside.
However, the U.S. Environmental Protection Agency (EPA) has sent a letter to Norfolk Southern and accused the company of failing to properly dispose of the contaminated soil, according to a WKBN report.
According to the letter, sent on February 10: "Five railcar tankers of vinyl chloride were intentionally breached; the vinyl chloride was diverted to an excavated trench and then burned off.
"Areas of contaminated soil and free liquids were observed and potentially covered and/or filled during the reconstruction of the rail line including portions of the trench /burn pit that was used for the open burn off of vinyl chloride."
Vinyl chloride is a colorless gas used to make polyvinyl chloride (PVC) plastics and is highly flammable and decomposes to make toxic fumes. According to the National Library of Medicine, it is also carcinogenic and can cause other health issues.
Dr. Julie Weatherington-Rice, who has a Ph.D. in soil science, also suggested the failure to properly dispose of the contaminated soil would eventually result in further health and environmental issues.
Ongoing Concerns
Speaking to WKBN, she said: "I think it was not in the best interest of human health and welfare and the environment to simply cover it up and keep going without at least a preliminary evaluation to determine if the level of vinyl chloride that was present in the soil was going to create a potential contamination threat to surface or groundwater.
"During the initial response work at the site, involving moving equipment, etc., some soil is moved around to best complete that initial phase."
Weatherington-Rice noted that vinyl chloride is highly mobile in soil and can eventually leach into the groundwater following precipitation that allows it to move through the soil.
She added: "It's not a question of whether it's going to be an issue, it will be an issue, the question is how bad of an issue is it gonna be, where is it gonna go, and how long is it gonna take to get there, and what's gonna happen when it gets there.
Newsweek has contacted Norfolk Southern for comment.