Ohio Train Derailment Is Part of 'War on White People': Charlie Kirk
The Ohio train derailment has one conservative talk show host convinced there are bigger issues at play.
A Norfolk Southern Railway train derailed in East Palestine, Ohio, earlier this month. Shortly after the derailment, officials decided to conduct a controlled burn of the cars to prevent an explosion. Some of the cars contained toxic chemicals like vinyl chloride, a known carcinogen. Since the derailment, area residents have experienced concerning physical symptoms. The environment has also taken a hit, with the chemical release proving fatal to hundreds of fish in the area and leading to the deaths of other wildlife, like foxes and birds. Officials are monitoring the level of toxic chemicals in the water.
On Tuesday, Charlie Kirk said members of President Joe Biden's administration haven't visited East Palestine, Ohio, after the derailment because the town's population is mainly white.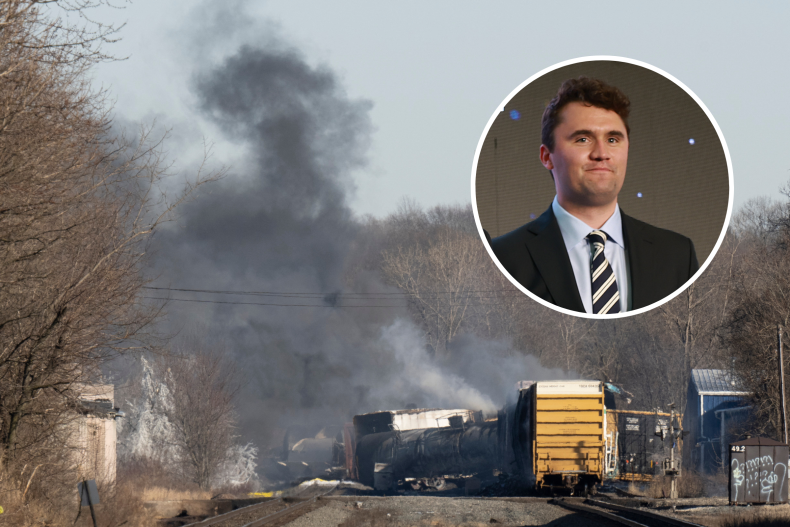 "So, why is it that they kind of shrug their shoulders and they say, yeah, okay, whatever? It's very simple. It's because the war on white people continues. Why would you care for the white working-class voters in eastern Ohio? You haven't cared about them in other reasons."
Census data shows that East Palestine, Ohio, residents are mostly white. In 2020, the town's population was nearly 4,500 people, with 93.5 percent of the population being white. Nearly 3 percent of the population was Hispanic and not even half a percent of residents were Black.
Kirk argued that if the train derailment happened in a city with a high Black population, Biden's administration would have a different response.
"And I will prove it to you. If this train derailment happened in downtown Atlanta in the densely populated Black neighborhoods, this would be the number one news story," Kirk said. "It would be Flint water crisis 2.0. There would be clamoring and activism and talks for reparations."
Kirk then goes on to criticize U.S. Department of Transportation Secretary Pete Buttigieg, who recently spoke at the National Association of Counties Conference. At the conference, Buttigieg addressed the topic of workplace diversity, saying when minority neighborhoods see a new infrastructure project, the workers "don't look like they came from anywhere near the neighborhood", according to a clip Kirk shared on his show.
"Buttigieg is out talking about how workers are too white," Kirk said. "For the last couple of years, I have been warning about this crusade against white people. And people shrug their shoulders, say, oh, Charlie, why does that matter? I could tell you why it matters. When there is a crisis now and the leaders hate working class whites, they're not going to scramble to save your life. They'll lie to you and tell you to go back home while you're poisoned."
Newsweek reached out to Kirk and the White House for comment.