Ohio University Marching Team Suspended After Hazing Accusations Surface
Ohio University's Marching 110 band is under investigation and all non-academic group activities for it have stopped after accusations of hazing have surfaced, according to The Athens Post.
The Office of Community Standards and Student Responsibility have issued an administrative directive to the Marching 110, demanding they stop all non-academic activities due to the investigation.
Band members are required to enroll in Marching 110 to receive an academic credit with the university, so they will be allowed to university-sanctioned events, such as the Homecoming parade and various athletic events.
The university is working to expedite the investigation process in the last month, according to a press release.
The university suspended all Interfraternity Council chapters last Thursday until further notice due to hazing investigations, and they filed cease and desist orders against 13 organizations—nine fraternities, three sororities and a professional fraternity. Those that haven't been required to cease and desist must hold meetings and then submit a reinstatement plan for university approval by October 16.
"Hazing is not tolerated at Ohio University within our sororities and fraternities, our athletic teams, sports clubs, registered student organizations, groups or anywhere else," according to the release. "We know that it can be difficult for students to recognize hazing and even harder to feel empowered to report such acts, and we appreciate the individuals who have come forward."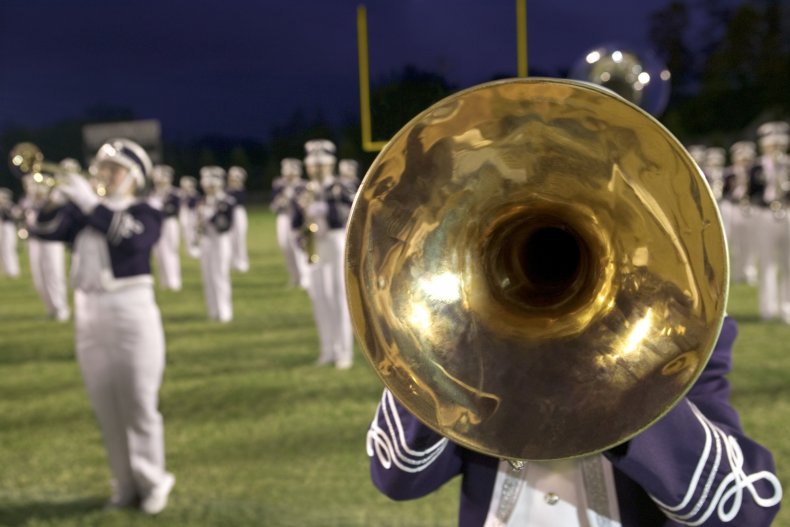 This semester, Marching 110 welcomed its first female field commander, Sophia Medvid, who is studying engineering physics. It was a major stride forward for a band that had all of its female members removed in 1967 and became "The Marching Men of Ohio."
Medvid, who is not attached nor named in the resulting press release, was enthusiastic about making her fellow students feel welcome and cheer them up when their morale was low.
"It's just a big honor to be bestowed on anyone," Medvid said at the time. "Like, I didn't think it'd be me just out of humility's sake. But I was also super excited because I had worked for three years hoping I would at least have a chance."
"I really wanted the band to feel like a family this year, and everyone in the band, whether they're a freshman or a fifth year, we treat everybody with respect, that way it's a positive mindset on the field," Medvid said.
"Once I got in front of the band I could feel that respect," Medvid said. "It made no difference whether I was female or not. A lot of the previous field commanders dating back to the '70s have even reached out and told me they are supporting me, and it's just been really great."
There's no word on when a ruling as to the status of Marching 101 will be delivered.