Ohio Wants to Give State College Grads 3-Year Tax Break to Remain in State for Work
An Ohio legislator proposed Monday granting graduates from any Ohio university who take a full-time job in the state will get a three-year exemption from state income tax.
Representative Jon Cross of Kenton, a chairperson of the House Finance Subcommittee on Higher Education, suggested the plan. He told the Associated Press his goal "is to incentivize Ohio's younger population to live, learn, work and prosper in Ohio vs. leaving the state after graduation."
Cross mentioned that Ohio once had 24 congressional districts and now has 15. With his plan, he said he wants to put the state back on a path to having 24 districts.
His plan does not have an exact price yet. Cross said it would depend on the estimated economic gains of the tax incentives bringing college students to Ohio and keeping them there.
The plan would also provide tax breaks to businesses that offer college students paid internships. Another plan feature would add more money to the state's grant fund for students with associate degrees looking to continue toward a bachelor's degree.
It would also provide $25,000 merit-based scholarships to 100 out-of-state students in the top 5 percent of their graduating class in the science, technology, engineering or math fields.
For more reporting from the Associated Press, see below: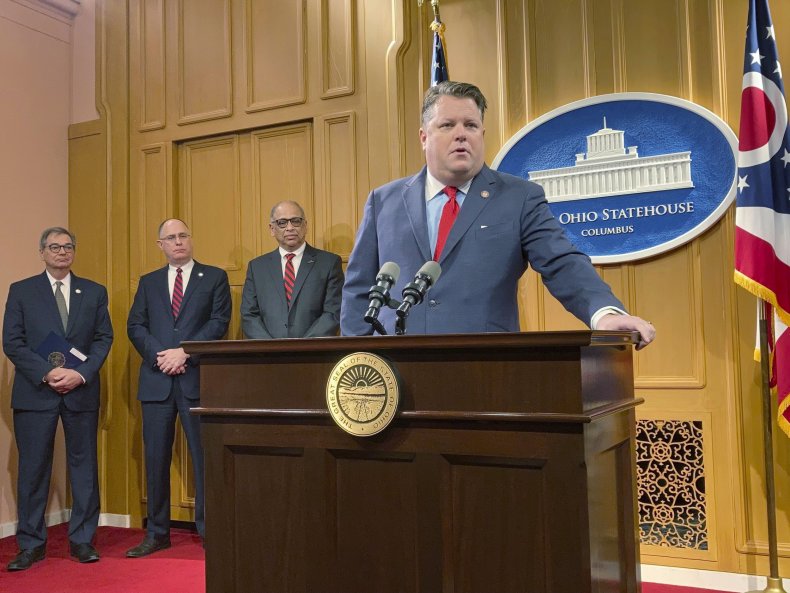 Returning Ohio to 24 congressional districts could be a heavy lift: the states that have gained House seats in recent years—including Texas, Florida and Colorado — have also experienced strong population growth, while Ohio, with about 11.8 million people, has experienced only minimal growth.
Cross was joined by several university presidents at Monday's announcement, including the leaders of Ohio State, Bowling Green State University, the University of Cincinnati, Marietta College, and Ursuline College in suburban Cleveland.
Twenty-six percent of students at the University of Findlay are from out of state, and 62 percent of the school's alumni work in Ohio, said Findlay president Katherine Fell.
"We would like that to be a larger percentage, and with this bill we believe that will happen," she said.
Cross said creative approaches are necessary, noting that plenty of other states provide incentives to attract students, including Alabama, which offers generous scholarships to qualifying out-of-state students.
"Who the hell wants to go to Alabama? I don't," Cross said. "But there's a pipeline of students in Ohio that go to Alabama. So we have to get competitive."