An Ohio woman challenged a Planet Fitness staff member after he repeatedly asked her to leave the gym for refusing to wear a mask.
A gym attendee who was recently in a viral video for refusing to wear a facial covering at an Ohio DMV has turned up in a second venue just days later: Planet Fitness. The woman identified previously as Anna Peric engaged in her latest anti-masker quarrel as a male gym staff member repeatedly asked her to leave the Cleveland-area branch of the national fitness chain. Peric accused the staffer of "harassing" her as she tried to start up a treadmill without a mask.
Peric first entered the Planet Fitness without a mask Saturday afternoon, which prompted her first confrontation with staffers. As the cell phone video shows, she demanded employees call their general manager over the phone so she could speak to him. However, after the manager told her to wear a mask or leave the gym, she claimed Ohio Governor Mike DeWine's executive order is "cutting into my freedom of liberty."
"I am not going to speak to someone over the phone, who I don't even know who it is, when I have limited time to exercise. And all you're doing right now is cutting into my freedom of liberty. I want to exercise, I pay to exercise," Peric said in the video which has been viewed tens of thousands of times on Reddit and other social media outlets.
"When you came in you did not have a face mask on," the Planet Fitness staffer tells her, as a second employee repeatedly tells her to talk to the police when they arrive about being in violation of the policy.
"The signs pertain to the governor's mandate, so if you want to enforce the governor's mandate then enforce them correctly because they make an exception for exercising. The exception is you don't have to wear a face mask when exercising. So if you could please leave me alone so I can exercise—because at this point I feel like I'm being harassed," Peric said.
Peric then sarcastically asked the gym employee if the mask would only be the first of many requests he would make of her while in the Planet Fitness. "What's next? If I'm not wearing a weight band around my waist you're going to tell me to leave?"
"Those aren't mutually exclusive," the Planet Fitness staff member replies.
"Your rules don't require a face mask," Peric then claimed. However, the fitness chain announced a global protocol on July 29 which states, "Planet Fitness to require face masks in all locations effective August 1."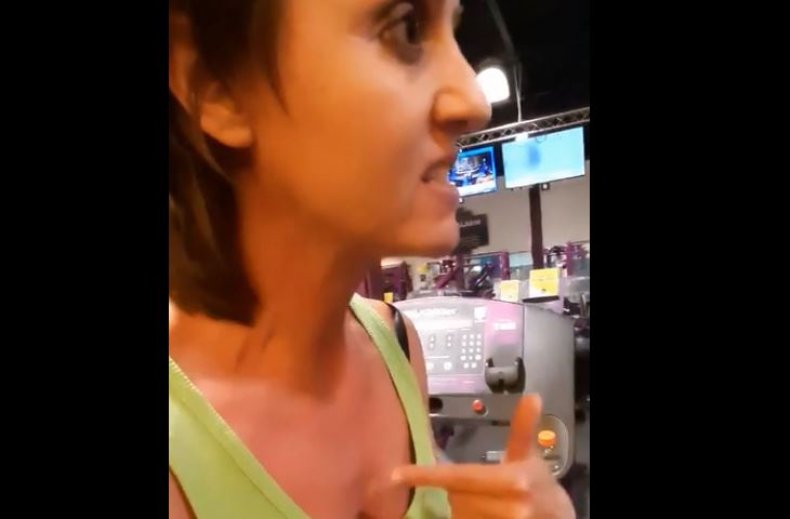 This is Peric's second anti-masker dispute in public in under a week. Peric posted her own video to Facebook on Wednesday in which she argued with DMV workers about why refused to wear a mask inside the government building. She repeatedly says she is within the confines of the law because she just wanted to "accompany her boyfriend."
A gym employee at the location confirmed the incident to Newsweek Saturday but declined to comment on any further details. Peric did not reply to a request for comment by publication time.