Ohio's Mike DeWine Defends Using Federal Funds for $1M Lottery, Calls Vaccine 'Best Weapon' Against COVID
Ohio Governor Mike DeWine is defending the use of federal aid to fund a new million-dollar initiative to incentivize more residents to get vaccinated against COVID-19.
The Republican governor unveiled a lottery system Wednesday offering a $1 million prize and full-ride college scholarships to those who get inoculated against the virus. Beginning May 26, five weekly drawings will allow winners to claim $1 million or a four-year scholarship to an Ohio public university.
The payouts will be funded by existing federal coronavirus relief funds, according to the governor.
DeWine, appearing on Fox News Thursday morning, was asked if using the federal money for such a giveaway was legal.
"We've had our lawyers look at this, and the federal government supplied this money so we could fight COVID," DeWine responded. "That's all we're doing with this. We're trying to get more people vaccinated, we think we will get more people vaccinated. That is fighting COVID. It is the best weapon we have today to stay on offense, and that is the vaccine."
He added, "If we can get more Ohioans who can't get it and can't spread it, we're fighting the COVID."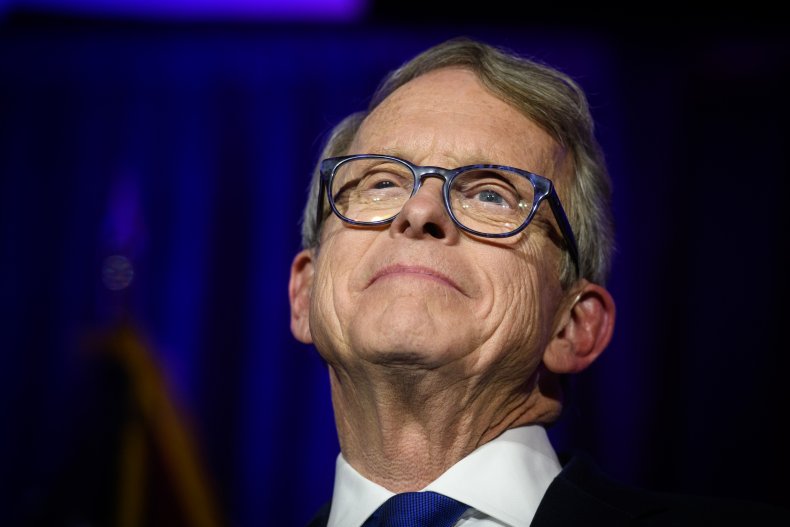 But some have questioned the use of federal funds for the project. State Representative Emilia Sykes, the top Democrat in Ohio's House of Representatives, called it a "grave misuse" of the money.
"As elected leaders, we're obligated to take seriously our duty to be good stewards of taxpayer dollars," Sykes said in a statement. "Using millions of dollars in relief funds in a drawing is a grave misuse of money that could be going to respond to this ongoing crisis. Ohioans deserve better than this. I do hope people continue to get the vaccine and help our state reach herd immunity so our economy and way of life can thrive again."
More than 4.8 million Ohioans—roughly 41 percent of the population—have received at least one shot as of Thursday, according to the state's Department of Health. But the number of residents receiving shots has dropped in recent weeks, prompting DeWine's lottery idea.
"I know that some may say, 'DeWine, you're crazy!'" DeWine tweeted on Wednesday. "'This million-dollar drawing idea of yours is a waste of money.' But truly, the real waste at this point in the pandemic — when the vaccine is readily available to anyone who wants it — is a life lost to COVID-19."
Newsweek reached out to DeWine's office for additional comment but did not receive a response before publication.