Oil Prices Rise in Tandem With Europe Tensions, Push Up Cost at Gas Pump
Oil prices reached nearly $100 a barrel Tuesday morning, the highest in more than seven years, as tensions between Russia and Ukraine continued to rise since Russian President Vladimir Putin ordered troops into eastern Ukraine on Monday.
The price of Brent crude was up 2.4 percent, reaching $97.63 a barrel on Tuesday, its highest level since September of 2014. West Texas Intermediate was trading at nearly $94 a barrel, up 3.2 percent, Business Insider reported.
Gas prices have been skyrocketing due to inflation, but they've risen even more amid concerns about a Russian invasion of Ukraine. U.S. President Joe Biden acknowledged that if Russia invades, there could be even more impact on our energy prices, the Hill reported.
The International Energy Agency said in itsFebruary oil market report that benchmark crude prices have risen by more than 15 percent in January, crossing $90 per barrel for "the first time in more than seven years."
Gas prices rose for the eighth consecutive week and could climb even more as crude oil prices continue their upward trajectory. The average price for a gallon of gas in the U.S. hit $3.53 on Tuesday, up 4 cents from a week ago and 21 cents from just a month ago. The price for premium reached $4.14, up 22 cents per gallon from a month ago, according to AAA.
California currently has the highest gas prices in the nation with a gallon costing an average of $4.74, while diesel can run $5.02 per gallon. Missouri has the lowest price for gas, which is cheaper than the national price, costing an average of $3.17 per gallon, with diesel being $3.59 per gallon, according to AAA.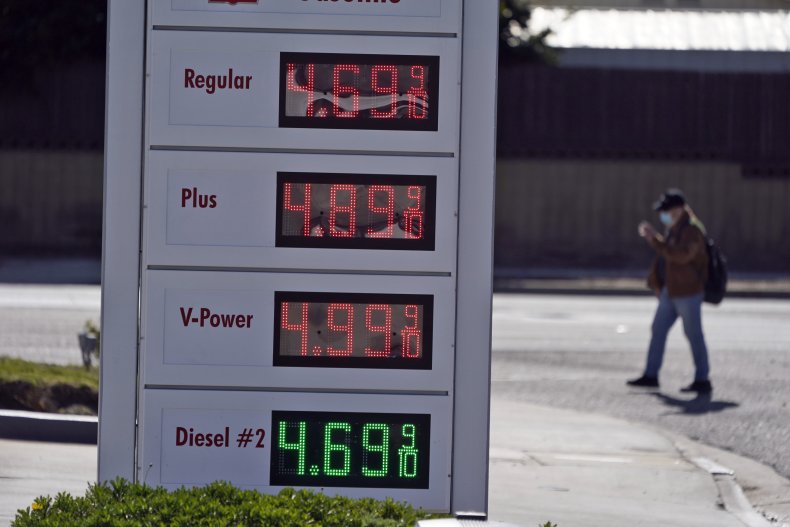 If Russia were to attack Ukraine the United States and its allies could impose sanctions. Russia could possibly retaliate by withholding oil from the world market which they supplies nearly 11 percent of it, or roughly 10.5 million barrels, the Washington Post reported.
"Russia is one of the leading oil producers globally, behind only the United States and Saudi Arabia," AAA spokesperson Andrew Gross said. "And if they choose to withhold their oil from the global market, such a move would eventually be reflected in higher gas prices for American drivers."
If Russia were to invade its neighboring country, a barrel of oil will "certainly" hit $120 and the global economy will be "radically altered," David Roche, president and global strategist of Independent Strategy, told CNBC.
If his were to happen, gas prices in parts of the country could reach more than $5 per gallon and parts of California could reach closer to $6 per gallon, NBC News reported.
In the best-case scenario, if there were a de-escalation between Ukraine and Russia in addition to a resolution with the Iran nuclear deal, per-barrel prices could be brought down to roughly $86, Fortune added. Until then, gas prices could continue to rise, causing more headaches for consumers across the nation.
Update 2/22/22, 12:11 p.m. ET: This article was updated with additional information.