Oil Prices Spike After Aramco Storage Facility Catches Fire
Crude oil prices increased by more than 1 percent Friday in the wake of a missile attack and fire at an Aramco oil distribution facility in the Saudi Arabian port city of Jeddah.
Two storage containers at the facility went up in flames because of the attack, but there were no confirmed casualties, Reuters reported. Brent crude prices went rose $1.62 Friday to sit at $120.65 per barrel, while U.S. West Texas Intermediate (WTI) crude went up $1.56 to sit at $113.90 per barrel.
The attack was carried out by Houthi rebels from Yemen, whose high-profile strike threatened to disrupt a Formula One race set to take place in Jeddah. Authorities promised that they would move forward with the event, the Associated Press reported.
The attack on Friday was the most recent development in an ongoing conflict between the Iran-aligned Houthis and a Saudi-led coalition. Saudi Arabia has received international criticism for conducting airstrikes amid the conflict that have caused civilian deaths, while the Houthis have sent missiles, drones and mortars into the country.
An eyewitness, according to Reuters, said that they saw a large plume of black smoke spread over Jeddah as the facility burned. The same fuel facility was also attacked days prior, spurring Saudi Arabia to warn Monday that the world's oil supply could be compromised.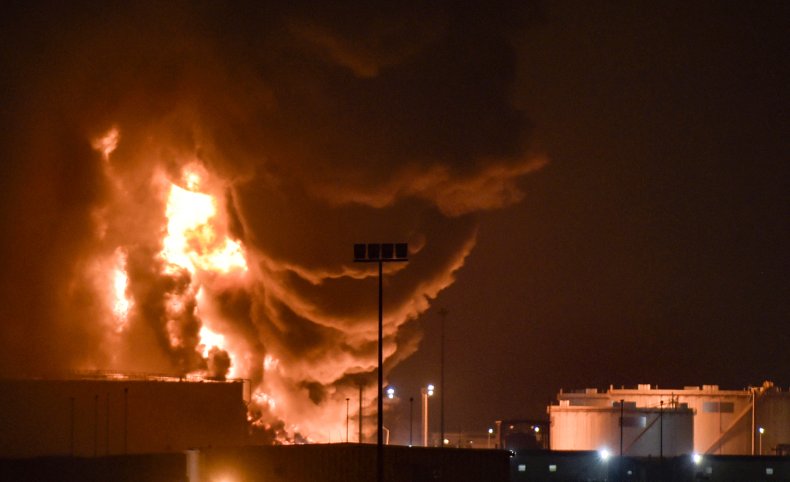 Brent crude is the international benchmark for oil, while WTI crude is a U.S. benchmark, according to the U.S. Energy Information Administration. This was the first time in three weeks that both saw weekly gains, with Brent increasing more than 11.5 percent and WTI increasing 8.8 percent, Reuters reported.
British Prime Minister Boris Johnson condemned Friday's attack on Twitter.
"These strikes put civilian lives at risk and must stop," he tweeted.
The Saudi Ministry of Energy confirmed the attack Friday in a press release attributed to an official ministry source. The source, according to the translated release, voiced "strong condemnation" of the attacks on behalf of the Kingdom, saying that they were "in violation of all international laws and norms."
The source reiterated Saudi Arabia's previous statements that it "will not bear any responsibility for any shortage of oil supplies to global markets" because of the series of attacks against Saudi oil facilities. They also warned of an "impact on the Kingdom's production capacity and its ability to fulfill its obligations to global markets, which undoubtedly threatens the security and stability of energy supplies to global markets."
The attacks, the source stressed, "do not target the Kingdom alone but also aim to destabilize the security and stability of energy supplies in the world, and thus negatively affect the global economy," according to the release.
Newsweek reached out to Aramco for comment.
Update 03/25/22, 4:40 p.m. ET: This story was updated with additional information.
Update 03/25/22, 3:55 p.m. ET: This story was updated with additional information and background.