Oil Spill Forces Obama to Postpone Foreign Trip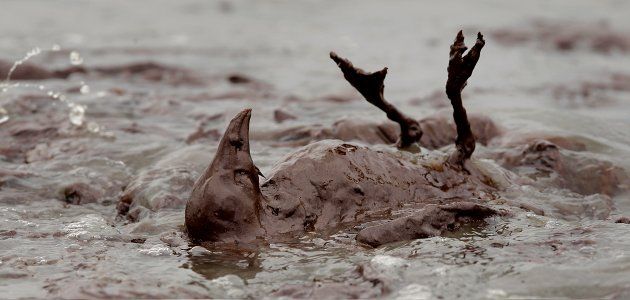 It's day 46 of the gulf oil spill. As many as 800,000 gallons a day of crude oil are still filling the Gulf of Mexico. And these new, shocking images of oil-drenched birds in Louisiana are likely to characterize the spill for some time.
The extent of the damage from the gushing oil well at the bottom of the gulf is too great to conceal, despite the efforts of BP and the Coast Guard to prevent news photographers from surveying the catastrophe. Last night, though, Associated Press photographer Charlie Riedel captured these images of pelicans and other birds struggling in the surf of Grand Terre Island, La., one of the shorelines closest to the spill.
Meanwhile, the National Center for Atmospheric Research issued a prediction of an alarming spread for the slick. It will hit Florida, the center says, continue to North Carolina by July, continue up the East Coast, and eventually head out toward Europe.
President Obama, by contrast, is not going anywhere. He has postponed his scheduled trip to Australia, Indonesia, and Guam to later this month. Which some might say is an optimistic timeline, given that the latest temporary capping effort is still in progress and that the relief wells that are supposed to staunch the flow permanently will not be in place until August. "The president," The New York Times reports, "faces another two months in crisis management before he can even turn his focus exclusively to cleanup and recovery." He'll start today with his third trip to Louisiana since the spill began in late April.
BP chief executive Tony Hayward, whose missteps are becoming the stuff of legend, will doubtless be hoping to get through a conference call with investors today unscathed. But his potential gaffes are the least of the company's problems. The government handed it a $69 million initial bill for the cleanup—the first of many, it's expected.