Massive Arctic Oil Spill That Russian Officials Found Via Social Media Could Take Decades to Clean Up
A criminal investigation has been launched in Russia into the cause of a massive oil spill into a Siberian river that threatens Arctic waterways and which could take years to clean up.
A fuel tank at a power plant near the city of Norilsk collapsed last Friday, releasing more than 20,000 tonnes of diesel oil into the Ambarnaya river in the Krasnoyarsk region and has so far contaminated a 135-square mile area. President Vladimir Putin has declared a state of emergency.
Norilsk was built on permafrost and its infrastructure is susceptible to melting ice caused by climate change, The Moscow Times reported.
The plant was run by Norilsk-Taimyr Energy Company (NTEK), a subsidiary of the world's biggest nickel and palladium producer, Norilsk Nickel.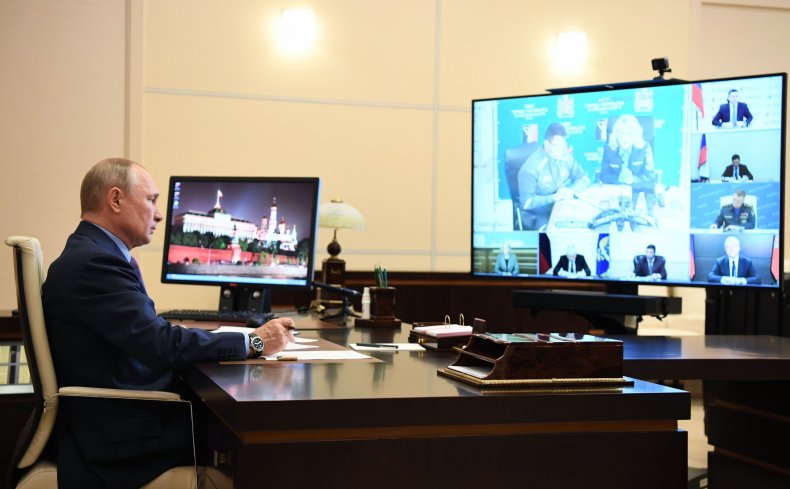 During a televised video conference, the Russian president appeared to turn his anger to the regional governor of Krasnoyarsk, Alexander Uss, who had said he had only found out about the spill on Sunday—two days later—after "alarming information appeared in social media."
NTEK's head, Sergei Lipin faced questions from Putin on Wednesday as to why it took so long for the authorities to be informed.
"Why did government agencies only find out about this two days after the fact? Are we going to learn about emergency situations from social media?" Putin asked him.
Spokesman for Russia's Federal Fisheries Agency, Dmitry Klokov said that the damage done was not yet known. "Already, we can say that restoring the ecological balance of the affected Norilo-Pyasinsky water system will take decades. The scale of the disaster is underestimated," he said, according to the state news agency Tass.
Estimates of the cost vary, both financial and environmental, with Greenpeace saying that the type of spill and the geography of the river will make it difficult to clean up and calling it one of the largest fuel spills in the Arctic.
"With the help of installed booms, only a small fraction of the pollution can be collected, so it can be argued that almost all diesel fuel will remain in the environment," said Greenpeace Russia's head of energy, Vladimir Chuprov, in a statement.
Oleg Mitvol, former deputy head of Russia's environmental watchdog Rosprirodnadzor, said that the clean-up cost could be as much as 100 billion roubles ($1.5 billion) and that "there has never been such an accident in the Arctic zone", the BBC reported.
Alexei Knizhnikov of the World Wildlife Fund said that the spill was much bigger than the 2007 Kerch spill in the Black Sea strait which required the intervention of the military and hundreds of volunteers, according to The Guardian.
Russia's Investigative Committee has opened criminal cases of negligence and has called for the arrest of the head of the plant's boiler-turbine workshop, Vyacheslav Starostin, Kommersant reported.
After a request for comment, Norilsk Nickel referred Newsweek to a press release which said that "no local community has been impacted" by the spill and that its subsidiary was working with government officials to carry out aerial inspections for contamination.
It said containment devices had been placed near the mouth of the Ambarka River to collect any oil products and stop its further spread.
"Norilsk Nickel has mobilized 250 personnel and 72 equipment items to work on the liquidation," the statement said.
"As of June 3, a total of 262 tonnes of diesel fuel has been collected...a total of 800 cubic metres of contaminated soil has been removed and approximately 80 tonnes of fuel has been collected from the spill to Ambarnaya river," it added.
This story has been updated to include a statement from Norilsk Nickel.