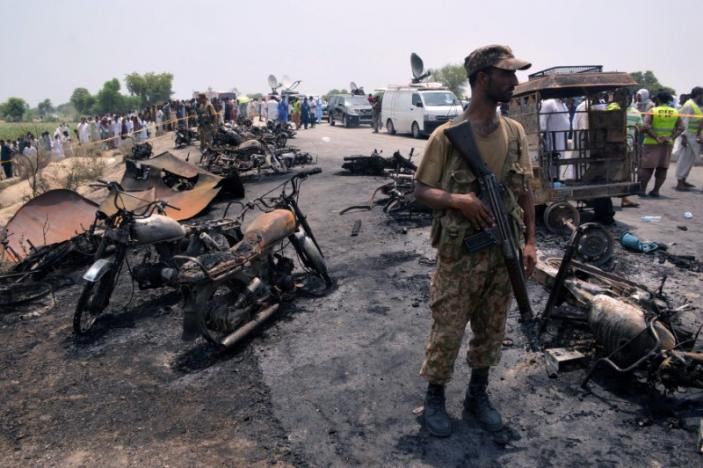 An oil tanker crashed on a road in Pakistan on Sunday and 132 people, many of whom had rushed to collect leaking fuel, were killed when it exploded, apparently after someone lit a cigarette, officials said.
The tanker overturned on a sharp bend on a highway on the outskirts of the city of Bahawalpur. The driver lost control when the vehicle blew a tire, a provincial government spokesman said.
A large crowd of people gathered, many to collect fuel in containers, and the tanker exploded in a huge fireball about 45 minutes later. Rescue workers said about 80 people had been injured.
"People of the area and passersby had started gathering fuel when it exploded, burning everybody," provincial government spokesman Malik Muhammad Ahmed Khan told Reuters.
An estimated 20 children were among the dead, he said.
The accident happened the day before Pakistan celebrates the Eid al-Fitr festival, when families get together to celebrate the end of the fasting month of Ramadan.
Many bodies were burned beyond recognition and television pictures showed piles of burnt out motorbikes, apparently those of people who arrived to collect fuel or just to have a look.
Police had tried to clear the area before the explosion but people ignored them, Khan said, adding that the initial crash had blocked the road causing a back-up of traffic.
The driver of the tanker survived the accident and had been taken into police custody, he said.
About 50 people were killed in separate bomb attacks in Pakistan on Friday but there was no suggestion of an attack on Sunday.
"According to initial reports, somebody tried to light a cigarette," said a spokesman for the rescue services, Jam Sajjad Hussain.
Firefighters took two hours to douse the flames.
Police in the area could not immediately be reached for comment.
About 40 people with serious burns were airlifted to hospitals in the nearby city of Multan.