Strikes Spread Across Brazil As Oil Workers Follow Truckers
Brazil's oil sector workers have joined truckers, launching a 72-hour strike on Wednesday, in what is seen as a blow to President Michel Temer's efforts to end the demonstrations.
FUP, the South American country's largest oil workers union, said that employees did not come to work at eight refineries stretching across the country. Plants handling lubricants, nitrogen and shale gas, as well as a couple ports were also affected.
"Initial information points to the workers having adhered to the strike at various locations," FUP said in a statement, Reuters reported. "The movement is continuing through the morning, when stoppages at other ... units of [state-led oil firm Petroleo Brasileiro SA or Petrobras] are expected."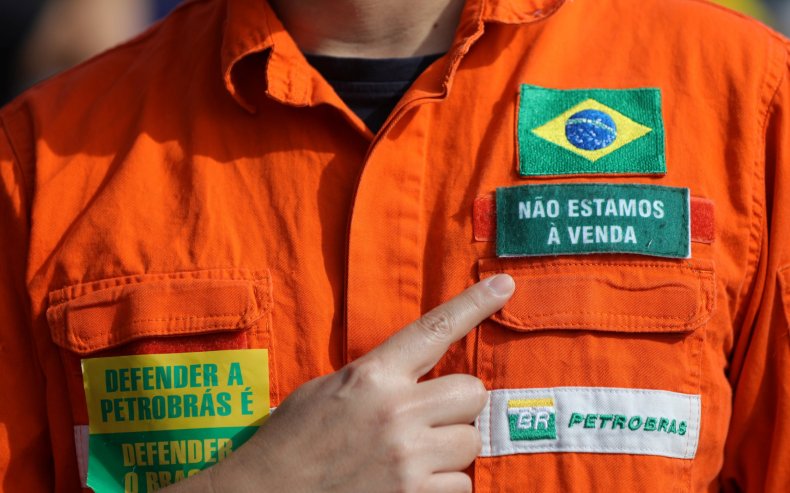 Workers' unions are demanding the resignation of Petrobras Chief Executive Pedro Parente, as well as the termination of the market-based fuel pricing policy and other changes put in place since Temer came to power in 2016
The oil workers' decision to join truckers, who have already been protesting for 10 days, comes in opposition to economic policies that have significantly increased fuel prices.
Brazil, Latin America's largest economy in and also the region's largest crude producer, has already felt the strain of the truckers demonstration. In just two weeks, Petrobras shares have dropped nearly 30 percent.
Other sectors of the economy, such as farming, have been hit hard by the strikes as well.
Chicken farmers were reportedly forced to slaughter about 70 million birds to keep them from eating each other, due to the lack of supplies as a result of the strike. Beef farmers have also felt the impact, losing an estimated 44,000 tons of exports valued at some $170 million. About 4,000 trucks filled with beef are sitting on roadsides with produce rotting inside. Additionally, only two of Brazil's 109 beef processing plants remain operational.
Many planes have also been grounded, and some cities are running short on food, gasoline and medical supplies. With the oil sector employees joining the movement, the economic impact may get much worse.
For now, Petrobras has attempted to assure investors that it has the oil supplies on hand to weather the strike without impacting overall production. On Wednesday, the company also reportedly won a court case against the strike, arguing that the strike is illegal because it is political in nature, not about working conditions. FUP said it was not informed about the court's decision.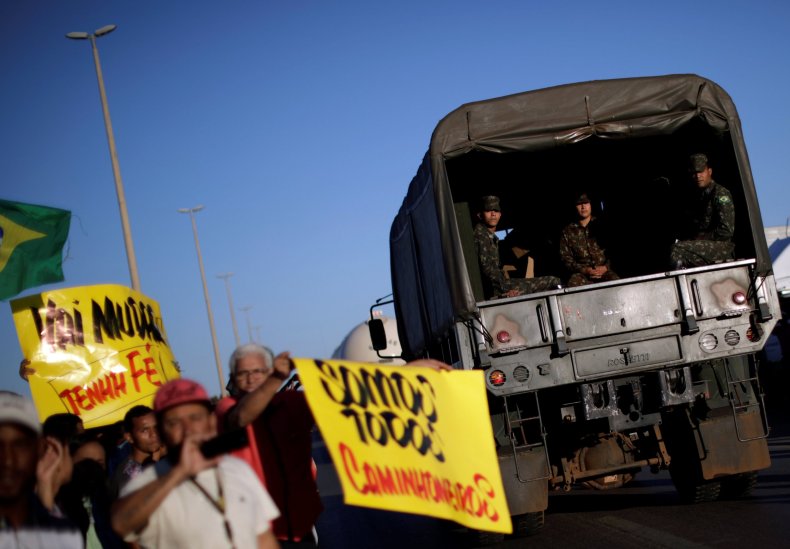 On Sunday, Temer attempted to calm the demonstrations offering a 10-percent reduction in diesel prices through government subsidies as well as other reforms. But just a week before, the president threatened to send in the military to break up the strikes. With oil workers now joining the protests, Temer's position appears to have grown weaker.
Beyond high oil prices, other economic and political factors have frustrated Brazilians. As the country continues to struggle through an economic recession, rampant corruption continues at the highest level of Brasilia's politics.
Temer's efforts to appease protesters are seen by many as too little, too late.
"The truth today is that only 10 percent of the people here are truckers, the rest are common people, workers of other sectors," a striking truck driver told the Associated Press, according to euronews. "This is not just a movement by the truckers anymore, but a movement by Brazilians."