Former NFL star and convicted felon O.J. Simpson has some advice for former President Donald Trump as he faces a new set of federal charges for his alleged illegal removal of classified documents from his time in the White House.
In a video posted to Twitter Friday, Simpson—who spent several years in jail on a series of felony charges connected to a 2007 robbery in Las Vegas—offered Trump some lessons from what he'd learned from his legal representatives throughout several high-profile criminal cases he'd been involved with dating back to his alleged role in the murder of his wife and her friend, Ron Goldman, in the early-'90s.
In each of those cases, his attorneys always had one rule for him as a client, whether it was Johnny Cochran, Allen Dershowitz, Peter Neufield or the late F. Lee Bailey: do not, under any circumstances, talk about the case before a ruling has been made.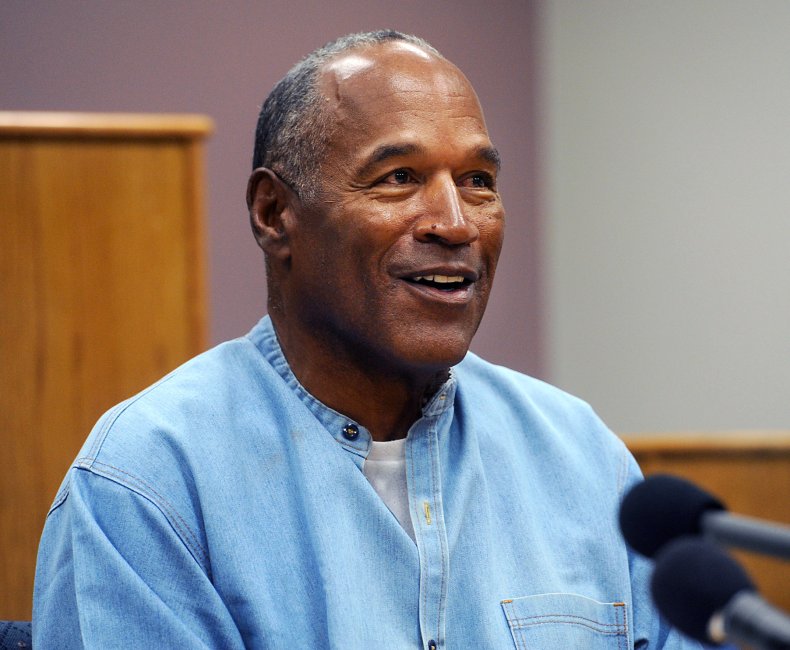 "The one thing they all told me and stressed to me was 'do not talk about the case publicly," said Simpson. "Do not do interviews about the case. [...] I don't know if Donald's lawyers are stressing this too. If they're not, they should be fired, and he should sue."
Newsweek has reached out to Trump's campaign for comment. However, for the famous braggadocio real estate developer, Simpson's advice may have come a little too late.
If Trump heard Simpson's advice, he apparently isn't following it: shortly after news of his indictment Friday, the New York Times' Jonathan Swan reported Trump planned to bring two reporters—Politico's Alex Isenstadt, and the National Pulse's Raheem Kassam—on his plane with him for interviews.
Trump has made repeated false claims on platforms like Truth Social insisting he'd declassified the documents currently under scrutiny that were apparently contradicted in recorded statements obtained by federal prosecutors and published in his indictment Friday.
In that tape, Trump can also be heard discussing classified information with an unauthorized individual who was in the process of writing a book about him, later suggesting he could have declassified the report as president but that he didn't.
"This is still a secret," Trump said in a transcript of the recording furnished by the Department of Justice.
Numerous text messages obtained by Trump associates also appear to detail a plot to store the classified and later, obstruct the federal investigation intended to find them—plans of which were outlined in extensive detail in Friday's indictment.
If Trump wants to discuss the case, he could follow the same playbook Simpson did—wait for things to blow over and, potentially, make a lot of money in doing so.
Years after Simpson's acquittal in the murder case around his wife, the former running back famously published a memoir titled 'If I Did It,' in which Simpson outlines a "hypothetical" description of the murders of his wife, Nicole, and friend Ron Goldman.
The rights to the book—which was penned by a ghostwriter—were later awarded to Goldman's family in a 2007 bankruptcy case, after which the title was changed to 'I Did It.'