O.J. Simpson Interview: First Look at 'Lost Confession' of Nicole Brown Simpson's Murder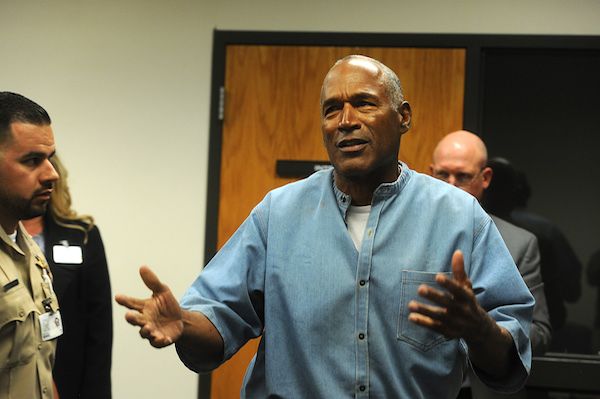 Fox is giving fans their first look at O.J. Simpson's infamous 2006 interview, during which he gave a chilling hypothetical account of how he would have murdered ex-wife Nicole Brown Simpson and her friend Ronald Goldman on June 12, 1994—if he actually did it.
The interview, which was conducted by radio talk show host Judith Regan, who also co-authored Simpson's tell-tale book If I Did It, will be aired in full, for the first time since it was recorded 12 years ago, on Sunday. Soledad O'Brien will host the two hour special, which will also include a panel discussion and evaluation of the now-70-year-old Simpson's interview.
On Wednesday, Fox released the first clip of O.J. Simpson: The Lost Confession. It includes a moment during the conversation where Simpson tells a story of a man named Charlie—the hypothetical murderer's new friend—mentioning something was "going on" at Brown Simpson's home between her and Goldman on the night they were killed. But Simpson occasionally switches from speaking about the hypothetical murderer and his pal Charlie in third person to referring to himself as the killer.
"This is very difficult for me to do this. It's very difficult—because it's hypothetical, I know and I accept the fact that people are gonna feel whatever they're gonna feel," Simpson says. "This guy Charlie shows up, a guy who I recently became friends with. And I don't know why he went by Nicole's house but he told me, 'You wouldn't believe what's going on over there.' And I remember thinking whatever's going on over there, it's gotta stop."
Later in the interview, Simpson goes on to explain that Charlie is the murderer's accomplice, that he rode in a Ford Bronco over to Brown Simpson's home and watched the killer enter the house and come out covered in blood. Five days after the actual murder, Simpson rode in a white Bronco—driven by his friend Al Cowlings—as it led police on an intense chase along the Los Angeles freeway.
Nicole Brown Simpson and Ronald Goldman's killer was never found. Simpson was arrested and tried for the murders, but after a sensational trial that gripped the nation (and world) he was found not guilty on October 3, 1995. Simpson was later arrested and sent to a Nevada prison for kidnapping and armed robbery. He was released on October 2, 2017, after spending nine years in jail.
O.J. Simpson: The Lost Confession airs March 11 at 8 p.m. ET on Fox.