'If I Did It': O.J. Simpson's 'Lost Confession' About Nicole Brown Murder to Finally Air on Fox
Twelve years ago, Orenthal James Simpson, otherwise known as O.J. Simpson, sat down with radio talk show host Judith Regan and gave his infamous "if I did it" account—the football player's hypothetical version of the 1994 murders of ex-wife Nicole Brown Simpson and her friend Ronald Goldman. The 2006 interview is set to air on Fox for the first time on March 11.
The two-hour special, "O.J. Simpson: The Lost Confession," hosted by Soledad O'Brien will also include a panel discussion and evaluation of the interview, in which Simpson, 70, gave a disturbing explanation of how he would have gone about killing Brown Simpson and Goldman, if he had, in fact, committed the murders. The program will air with limited commercial interruptions in exchange for ads advocating for domestic violence awareness.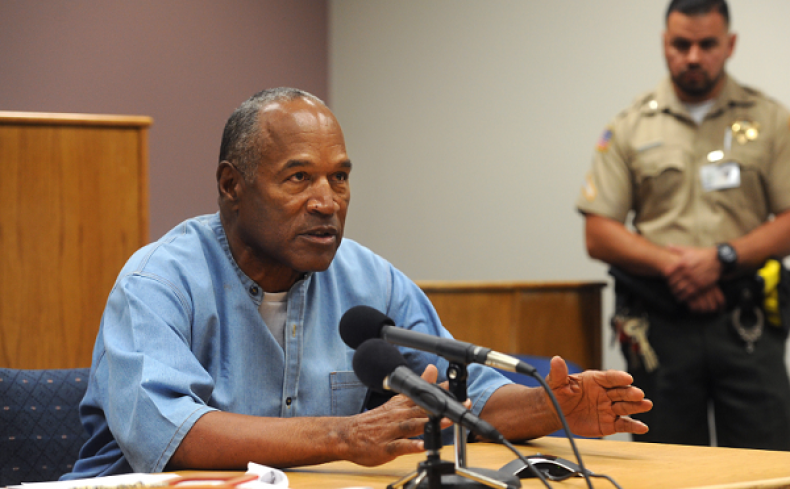 "For over a decade, the tapes of that infamous interview were lost — until now," Fox said in a statement. "Simpson's explosive words finally will be heard, as he answers the questions that gripped a nation during the notorious 'Trial of the Century.'"
Simpson Brown and Goldman were discovered, stabbed to death, outside of Simpson Brown's Brentwood, California condominium on June 12, 1994.
Although Simpson was never convicted for Simpson Brown and Goldman's murder, many suspected that he had carried out the gruesome killings. He was arrested and charged with both murders on June 17, 1994, and following a highly publicized trial, a jury found Simpson not guilty for both. He was, however, ordered to pay $33.5 million in restitution following a wrongful death civil lawsuit filed by Goldman's family in 1996.
In September 2007, Simpson was arrested and tried in connection with a robbery at the Palace Station hotel-casino in Las Vegas after a group of men—led by the former NFL player—broke into a room and stole memorabilia. He was initially facing up to 33 years in prison for the crime. But after serving just nine years behind bars, Simpson was released on parole in October 2017.