What's Next for O.J. Simpson? After Prison Release, The Juice May Head to Florida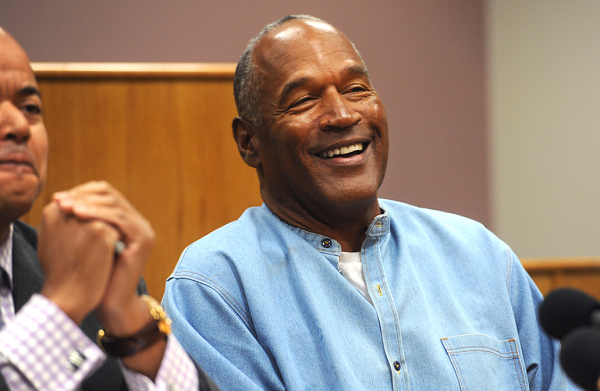 O.J. Simpson's days behind bars are numbered. In fact, the former NFL star may be getting released from Lovelock Correctional Center in Nevada as early as Monday, according to Department of Corrections spokeswoman Brooke Keast.
Simpson's parole conditions allow for him to be transferred from the Lovelock facility to the High Desert State Prison just a few miles away from Las Vegas. Keast told the Associated Press that it's just a matter of finalizing documents approving 70-year-old Simpson's release that would determine how long he'd remain a resident at High Desert. If all the paperwork is handled on Monday, Simpson will be free to go.
Simpson has been in prison for the last nine years after being charged with armed robbery and kidnapping. "The Juice"—as he was referred to back in his football-playing days—was initially facing up to 33 years behind bars for the charges, which stemmed from a 2007 altercation with two sports memorabilia dealers at a Las Vegas hotel.
In July, four parole board members unanimously ruled Simpson would be eligible for parole as of October 1.
At his most recent parole hearing, Simpson said he plans to spend time with his family and work on being a better Christian. His friend Tom Scotto told CBS News in Las Vegas that he has offered to let Simpson come live with him at his home in Naples, Florida. Simpson had previously mentioned going to live in Florida with his youngest daughter, Sydney Simpson, whom he shared with his murdered ex-wife, Nicole Brown Simpson.
There has been speculation that Simpson could star in a reality TV show after he's released from prison. Although he repeatedly turned down interviews while he has been in lock-up, network producers have reportedly been vying for him.
Despite his years-long absence from the spotlight, America is still very fascinated by Simpson. Nearly 14 million people tuned in to Simpson's parole hearing in July, despite its 10 a.m. ET start.
And just a month after that, hordes of people flocked to Los Angeles in August to visit The O.J. Simpson Museum, which was on display at the Coagula Curatorial Gallery. The exhibit featured a collection of '90s nostalgia surrounding Simpson's famous murder trial, when he beat charges in the deaths of his ex-wife and her friend Ron Goldman.