O.J. Simpson: 'Nobody Ever Accused Me of Pulling a Weapon on Them' and Other Eyebrow-Raising Quotes
O.J. Simpson, who in the most famous murder trial in United States history, was accused of stabbing two people to death, said Thursday, "No one has ever accused me of pulling a weapon on them." Simpson was answering questions as part of a parole hearing related to a 2008 conviction for armed robbery and kidnapping stemming from a failed attempt to recover sports memorabilia from two collectors at a Las Vegas hotel.
Related: Where are O.J. Simpson's kids now? Daughter Arnelle Simpson expected to attend dad's parole hearing
The issue of Simpson's 1995 trial for murdering his ex-wife Nicole Brown Simpson and her friend Ron Goldman was only brought up directly when a member of the parole board said it was not permitted to be considered during the hearing. But, while attempting to justify why he should receive parole, Simpson made a number of comments related to his past actions.
While Simpson was found not guilty of the 1994 murders, he was later found responsible for the deaths in a civil trial and ordered to pay tens of millions of dollars in damages to the victims' families. In 2006, he wrote a book If I Did It: Confessions of a Killer, in which he gave a purportedly hypothetical account of the murders.
Here are some of the standout quotes from Simpson's parole hearing that raised more than a few eyebrows.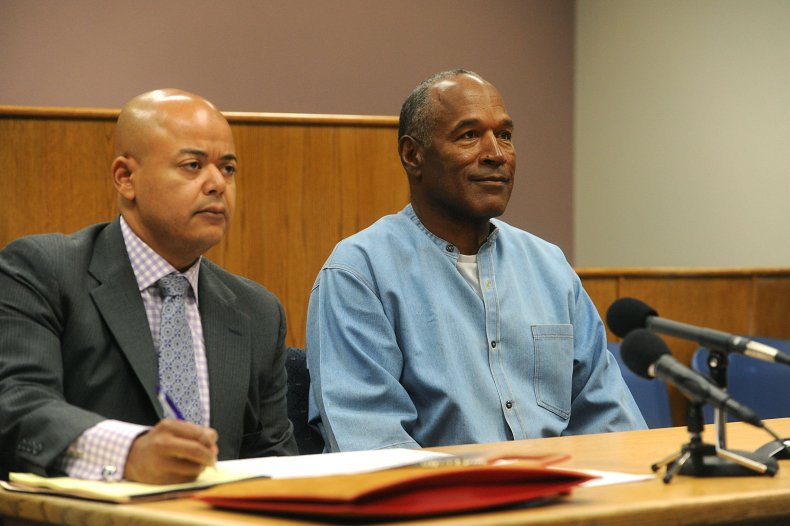 "Nobody has ever accused me of pulling any weapon on them. I never have."
"I realized in my nine years here that I was a good guy on the street. I was always a good guy. But I could have been a better Christian, and my commitment to change is to be a better Christian."
"I thought I was a good guy. I've had some problems with fidelity in my life, but I've always been a guy that pretty much got along with everybody."
"I'm not a guy who lived a criminal life. I'm a pretty straight shooter. I've always tried to be a good soldier."
"I've never had an alcohol problem. I don't think anybody has ever accused me of having an alcohol problem or any kind of substance problem."