'Ok Boomer:' Utah Student Section Trolls Paul Finebaum After He Says 'Nobody' Wants The Utes In College Football Playoff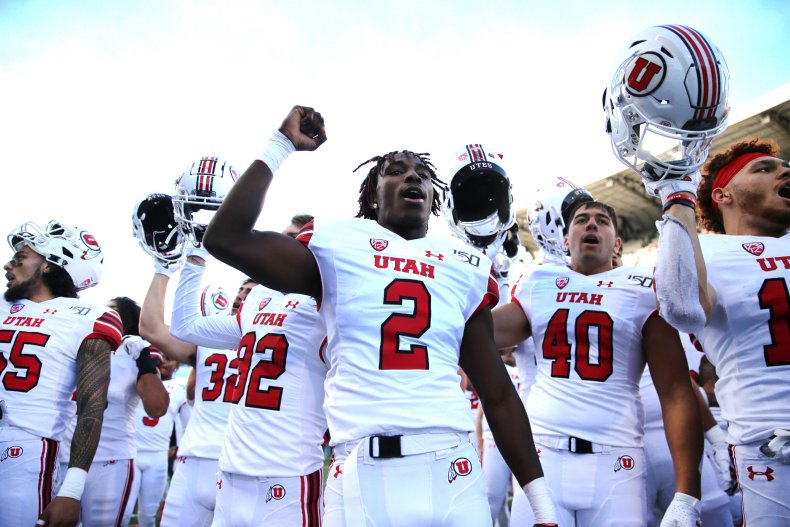 On Wednesday morning, Utah football took to Twitter to respond to recent criticism of their program by ESPN college football analyst Paul Finebaum.
"Thanks for the bulletin board material, @finebaum. Keep it coming," Utah Football wrote on its Twitter account.
The Utes' response comes after Finebaum suggested that no one wants to see the team in the College Football Playoff (CFP). Finebaum's comments came on ESPN's Get Up Wednesday after he was given a hypothetical scenario by the show's host Mike Greenberg.
Greenberg asked Finebaum who would be the fourth team in the CFP if Oklahoma beats Baylor to win the BIG 12 conference championship, Utah beats Oregon for the PAC 12 championship and LSU beats Georgia for the SEC championship.
"Oklahoma is getting in, because let's be honest the country does not want to see Utah in the College Football Playoff," Finebaum replied, adding that "Oklahoma may not be any better, but their gonna look a lot better."
In the most recent College Football Playoff (CFP) rankings, Utah was given the No. 5 sport, just outside the Top Four teams selected for the CFP semifinal games. This year's CFP rankings have created more conversation than usual, largely due to the fact that the teams ranked in spots four through seven -- Georgia, Utah, Oklahoma and Baylor -- all have identical 11-1 records.
These records could lead to drastic changes in the CFP rankings following conference championship games this upcoming weekend, which Greenberg detailed in his scenario.
Utah's student section, "The MUSS" chimed in to Finebaum's take, by retweeting the clip of the ESPN analyst's comments and writing "Ok Boomer."
Fox Sports college football analyst, Joel Klatt also responded to Finebaum's comments and gave his support to Utah.
"Come on...@finebaum this an absurd take...this might be your position but to suggest that the 'country' feels this way is not right," Klatt wrote on Twitter. "Also to suggest that OU will look 'a lot' better is not accurate...if you haven't watched Utah just say it and move on."
Utah will face No. 13 Oregon during Saturday's PAC 12 championship game.