'OK Boomer' Is Whitewashing Today's Generation Gap | Opinion
Never before in the history of this country has the racial and ethnic makeup of the older generation differed so greatly from the demographic makeup of the younger population.
In 1975, 13 percent of adults over 65 and 25 percent of youth under 18 were people of color; that's a racial generation gap of 12 percentage points. By 2015, 22 percent of adults over 65 and 48 percent of youth were people of color; that's a gap of 26 percentage points.
"OK boomer," love it or hate it, denies this demographic reality.
We're not revisiting an age-old generational conflict here. The racial generation gap is a much bigger story. Those who fail to understand and address the interplay between race and age will fail to understand today's political landscape and miss a big chance to build alliances across racial and generational divides.
2016 marked the "most demographically divisive election in the past 36 years," with parties more divided by age, race and education than in any prior election in modern political history, according to a recent report from the Brookings Institution and the Center for American Progress. And 2020 won't be much different unless candidates dig deeper to understand the nuances of race and age.
In the Democratic primary, news outlets and debate moderators are focusing almost exclusively on the candidates' ages. After all, the youngest and oldest candidates span about a 40-year generation gap. This, however, fails to consider the interplay between race and age.
When "the Squad," the group of four millennial and Gen X women of color in the House of Representatives, endorsed Senators Bernie Sanders and Elizabeth Warren, the candidates missed an opportunity to clearly and emphatically state their commitments to building intergenerational, multiracial alliances. Sanders' aides got halfway there by describing how Representative Alexandria Ocasio-Cortez's endorsement "represents the multiracial, working-class coalition he is trying to build," but it was the congresswoman who called on activists to "push towards a positive and inclusive movement" that is "intergenerational but progressive."
Last month, an internal Pete Buttigieg campaign memo raised concerns that the mayor's sexuality was an issue for African American voters in South Carolina. Was the issue homophobia in the black community, as many presumed? Unlikely. Data from the Public Religion Research Institute points the finger at a generational divide.
There is a nearly 20 percentage point gap between younger and older Americans on support for laws protecting LGBTQ people from discrimination. That generational gap holds for both whites and African Americans. However, the Buttigieg campaign and the reporters covering it failed to see how race and age interact—and instead treated African Americans as a monolith.
Had the campaign recognized they had a legitimate "OK boomer" issue on their hands, they could have crafted an appeal to all of Buttigieg's younger supporters, asking them to talk to their parents and older relatives about the mayor's merits.
Reporters and politicians must combine data sources to better examine the interplay of race and age. When looking at data about the voting patterns or political interests of a racial or ethnic group, they can break it down across age groups. Similarly, with data about a specific age group, they can break it down across race and ethnicity.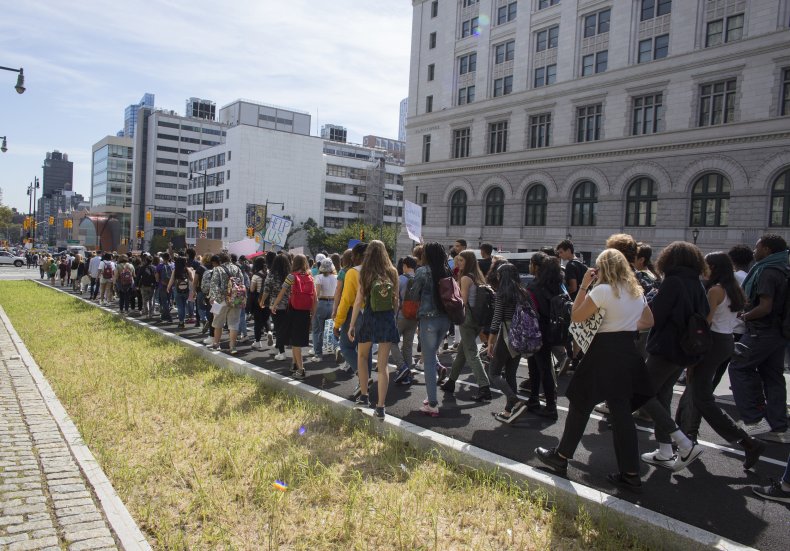 It's also important to highlight examples of multigenerational, multiracial alliances. Reverend William Barber, president emeritus of the North Carolina NAACP and a leader of the Forward Justice strategy center, consistently describes his work as building a "multi-generational and multi-racial movement."
In speaking directly to organizations with older memberships, like the NAACP, Barber has said he encourages changes that bridge racial and generational divides. "Young people are not just pushed aside to hand out flyers for the movement, but are key to the foundational structure of it," he told Occupy.com. "Don't expect them to stick around for a meeting where you decide who the officers are and what color the napkins will be at a banquet."
We are living in an unprecedented time of demographic change, where analyses of generational divides must include the new racial landscape—and vice versa. Without attending to the interplay between race and age, we can't hope to understand the racial generation gap. Doing so is necessary to develop alliances and coalitions that effectively bridge these differences.
Corita Brown is director of innovation and learning at Encore.org. Sean Thomas-Breitfeld is co-director of the Building Movement Project.
The views expressed in this article are the writer's own. Correction: An earlier version of this article incorrectly stated the percentage of youth of color in 2015; 48 percent is correct.