Racist 'It's Okay to Be White' Stickers Reappear in Scotland
A spate of posters bearing a slogan commonly used by white nationalists have appeared in Perth, Scotland, and local politicians are condemning whoever put them up.
The signs, reading "It's Okay to Be White," have been posted on streetlights and drainpipes around Perth's city center. No group or individual has come forward to claim responsibility.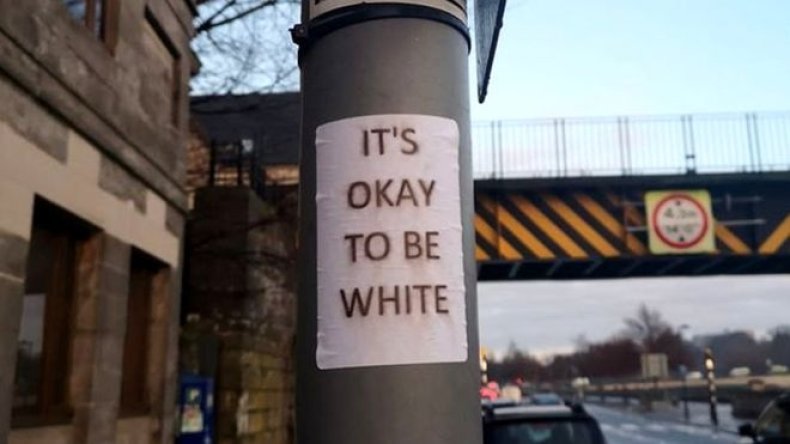 The Courier reported that a police spokesperson stated, "Although no complaint has been made to police regarding these posters, they have been brought to our attention and officers are currently looking into the matter."
According to the BBC, deputy first minister John Swinney told the network that the signs have "no place in Perth or any other part of our country."
Similar posters had been spotted in Dundee several months ago.
The "It's Okay to Be White" poster campaign was first floated in 2017 on the /pol/ section of 4chan, which often occupies itself with public provocations in service of sexism, racism and homophobia.
According to the initial posts, the idea was to disseminate a message that was superficially inoffensive but would "trigger" left-wing people to accuse them of racism. The Anti-Defamation League reported that one user believed those accusations would convince the masses "that leftists & journalists hate white people, so they turn on them."
That ignores the premise that making white people "turn on" leftists is, by default, a white supremacist notion. It also ignores the fact that neo-Nazi and white power bands like Aggressive Force were using the slogan as far back as the early 1990s, according to the ADL.
The initial poster campaign happened at the end of October and early November. In December 2017, the slogan received a major public boost when Fox News host Tucker Carlson reported uncritically on the poster campaign.
Carlson, who has hosted multiple guests with ties to white nationalism, according to Media Matters, used the appearance of the slogan at a Maryland high school to rail against leftists sowing "racial division," Newsweek reported.
Posters and stickers bearing the slogan have appeared in a number of venues since.
Users on /pol/ have greeted the Perth stickers with glee, pleased that the meme they created has had such a long life.
One wrote, "I go to uni in Perth, this is funny. Pretty sure one of my lecturers hated muzzos as well."
Racist 'It's Okay to Be White' Stickers Reappear in Scotland | News