OKC Rookie Hamidou Diallo Suffers Gruesome Injury, NBA Community Rallies in Support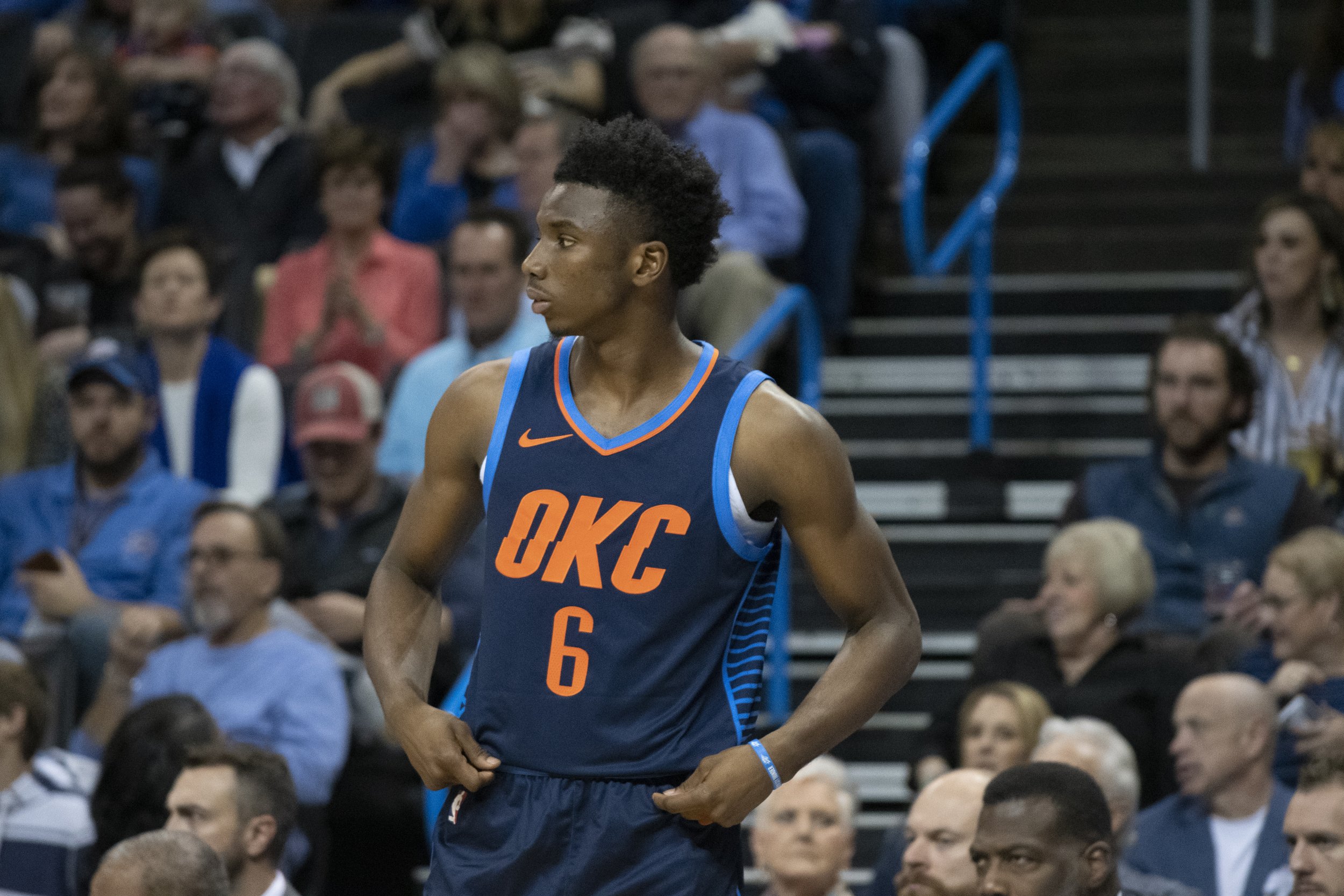 The NBA community rallied behind Hamidou Diallo after the Oklahoma City rookie suffered what appeared to be a gruesome leg injury on Wednesday night.
Golden State Warriors forward Jonas Jerebko landed awkwardly on Diallo's legs after the Thunder guard had jumped for a rebound in transition. Footage showed Diallo rolling on the floor in pain, while teammates and opponents looked visibly shaken by the injury.
The 20-year-old, who was averaging 6.5 points and 2.5 rebounds in 15 games going into the game against the Warriors, was stretchered off the court and was attended to by Warriors team physicians.
NBA and NCAA players immediately took to Twitter to share messages of support for Diallo, who had registered three points, two assists and six rebounds in 17 minutes by the time he left the court with just over seven minutes left in the game.
Fortunately for him and for the Thunder, what appeared to be a severe injury turned out to be nothing more than an ankle sprain. League sources quoted by The Athletic and ESPN indicated the Warriors' medical staff ruled out any severe lower body injuries and he left the locker room on crutches and wearing a protective boot on his ankle.
The rookie will undergo further evaluation in Oklahoma on Thursday but a team spokesperson indicated the prognosis should be much better than initially feared. Paul George, who looked extremely worried when Diallo was stretchered off the court, also indicated the injury was likely to be a relatively routine ankle sprain.
Aside from Diallo's injury, there was positive news for the Thunder, who picked up their fourth win in five games by defeating the Warriors 123-95. Oklahoma dominated throughout the game, inspired by George, who had 25 points, five assists and nine rebounds, while Russell Westbrook posted a triple-double with 11 points, 13 assists and 11 rebounds.
Dennis Schroder was the top scorer for the Thunder, coming off the bench to score 32 points in 28 minutes, shooting 12-for-19 from the field and 5-for-6 from beyond the arc.
The win improved Oklahoma's record to 11-6 for the season, moving the Thunder up in fourth place in the Western Conference, just ahead of Golden State, which is now 12-7 after losing four straight games for the first time in the Steve Kerr era.
Thunder coach Billy Donovan was particularly pleased with the performance as it came at the end of a difficult three-game road trip.
"There's just been a lot of things on this road trip that have impacted any level of consistency, our rotation, of having any idea of who's going to be playing," he told the Associated Press.