OKC Woman Fighting for Life After Being Mauled by Four Pit Bulls
An Oklahoma City woman is fighting for her life in a critical condition after she was attacked and mauled by a pack of four pit bulls.
The woman—whose name has not been released—was walking along Northeast 29th Street on Saturday when the dogs lunged and brought her to the ground. Several members of the public attempted to help the woman but the dogs would not be deterred.
Speaking to News 9, Kwasi Stephens said the dogs just attacked her. "We were like dang, and I ain't gonna lie, it got graphic, like limbs, you saw bone, blood. They had her arm, leg. They were just kind of ripping at her."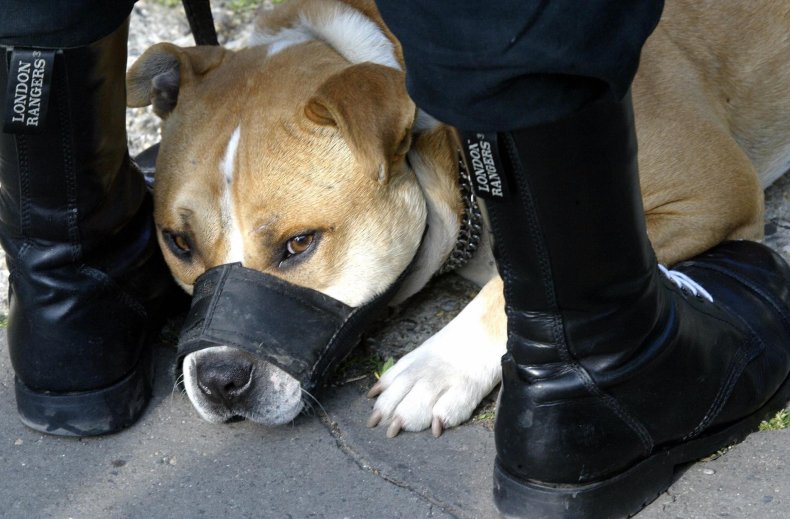 Police were eventually called to the scene and arrived at around 9:30 p.m. They were forced to shoot one of the dogs to stop the attack. The rest were taken to a shelter.
"There were two guys that tried to help her," Stephens said. "One dude with a bat, and one dude was just hitting on them but like, the dogs weren't giving up and that's when the cops were called. The cops started shooting at them."
One of the men attempting to stop the dogs with a baseball bat was local resident Roosevelt Alford. "Go to the door and look down the street and see these dogs attacking this lady and she was hollering for help," Alford said.
After attempting to stop the dogs with a stick, Alford said he was forced to run back to his house for a baseball bat. "I just hit one with a stick and it broke over him. It didn't faze him at all so I got back and got my bat, went back down there and got to hitting and that didn't help either," he said.
"They were snatching and pulling at her. They were tearing her apart."
Alford is now bed-ridden with injuries after one of the dogs turned and attacked him. The attack was so severe he lost consciousness. "I tried to get back to the porch and got back and fell out," he said.
He was bitten on the legs and back. He also suffered a broken arm.