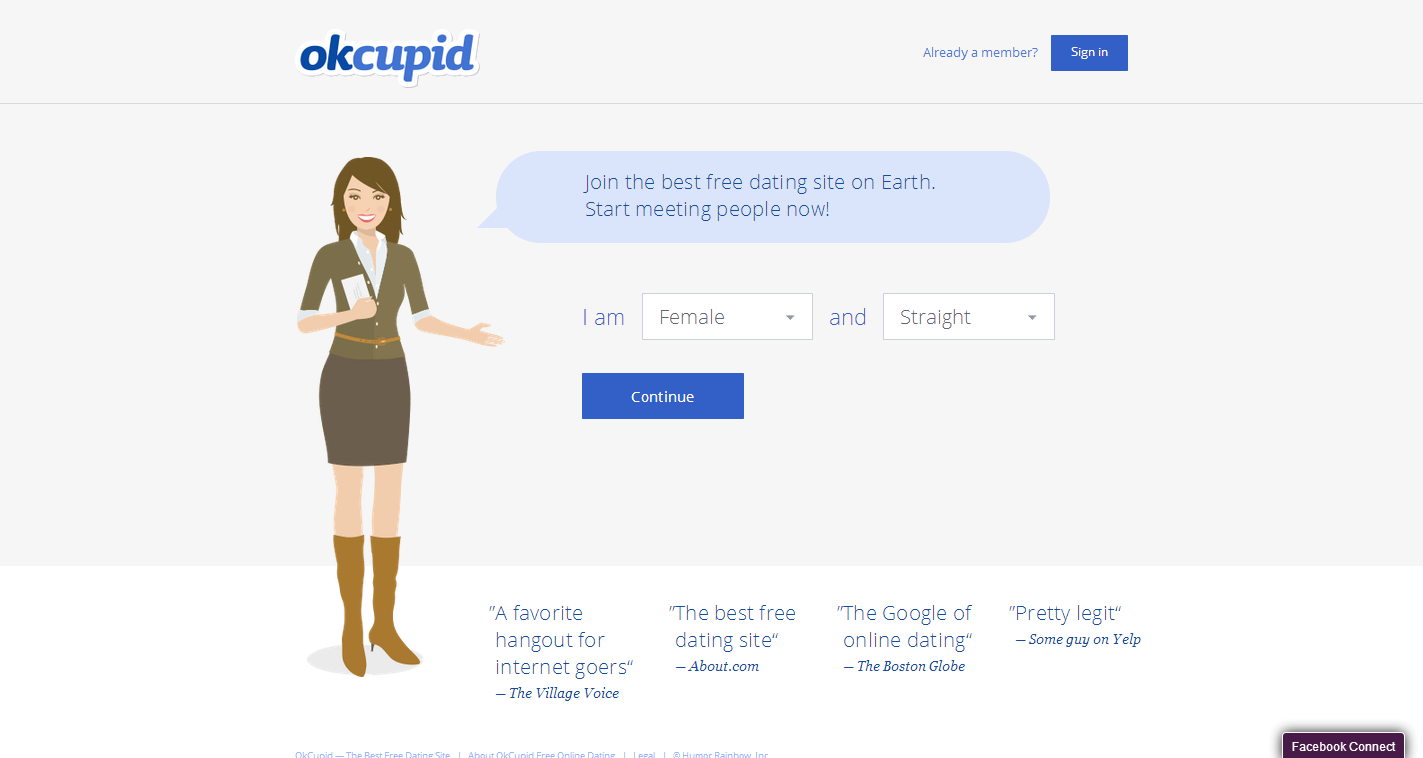 "We noticed recently that people didn't like it when Facebook 'experimented' with their news feed. Even the FTC is getting involved. But guess what, everybody: If you use the Internet, you're the subject of hundreds of experiments at any given time, on every site. That's how websites work."
These are the words of Christian Rudder, co-founder of popular dating website OkCupid. Rudder wrote them on OkTrends, a blog in which Rudder and other OkCupid employees dig through mounds of data collected by the site to provide interesting asides about the behaviors of OkCupid users. For instance, in a post from April 2011, Rudder revealed that "whether someone likes the taste of beer is the single best predictor of if he or she has sex on the first date."
In today's post, Rudder announced that, in addition to simply collecting data about its users, OkCupid sometimes manipulates what they see. In an experiment Rudder called "The Power of Suggestion," OkCupid told users with relatively low "match percentages" of 30 percent that they were a much better match (90 percent) than the site's algorithm said they were. More important than whether you're a good match for someone, the experiment found, is whether OkCupid tells you you're a good match for someone.
"When we tell people they are a good match, they act as if they are," Rudder wrote. "Even when they should be wrong for each other...the mere myth of compatibility works just as well as the truth."
Some Twitter users were upset about what they view as the company's flippant attitude its users.
But Rudder disagrees both with critics of Facebook and his own company's detractors.
"I'm not a huge fan of Facebook or anything, but I think sometimes they're treated sort of unfairly. It reminds me of how Fox News treats Obama. There's nothing they can do that will make certain people happy about them, you know? And I feel like if you put the words Facebook, data, users, and privacy in a sentence, you're dead. It doesn't even matter what it says. OkCupid is obviously much lower profile. Our terms and conditions permit this stuff explicitly, whereas Facebook didn't until after the fact of the experiment. We notified the users who were most affected by email after the fact," he told Newsweek in a phone interview.