Oklahoma, Arkansas, Nebraska, Flooding Maps and Update After Deadly Storms Pummel Central States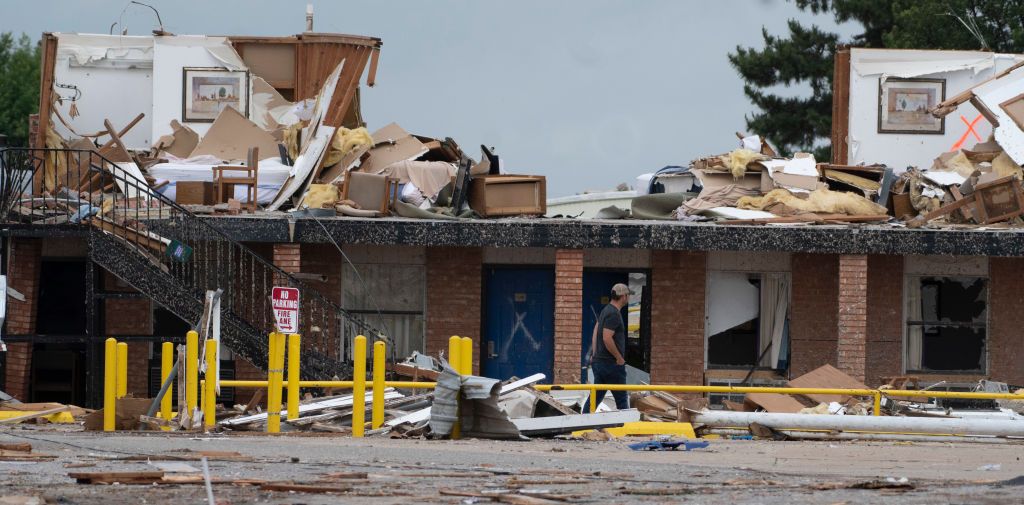 Major storms, tornado watches and flood warnings are sweeping across the central United States as Americans commemorate Memorial Day.
Oklahoma, Arkansas, Nebraska and other central states all faced severe weather conditions such as heavy rains, wind, hail and possible twisters on Monday, with millions of Americans impacted by or under the threat of storms.
"The overall weather pattern that has been in place across the U.S. will continue early this week, which will bring more rounds of severe weather to the Plains," AccuWeather Meteorologist Brett Rathbun said Monday.
Officials in Arkansas said that people in several counties had already begun evacuating, as the Arkansas River could surpass its normal level by four feet, setting a new record. "Catastrophic flooding is possible in the towns of Van Buren and Fort Smith," CNN meteorologist Dave Hennen explained.
Waters were also rising in Oklahoma, according to Governor Kevin Stitt.
"We still have water still rising in the east," he warned. "We are not out of the woods yet."
Over the weekend, officials in Tulsa, Oklahoma, urged some residents to prepare to evacuate and head for higher ground. A warning was also issued to all residents to brace for severe flooding, as city officials monitored local levies around the clock.
"Another round of heavy rain is on tap today for parts of the Midwest and Plains," Hennen said. "Many rivers are already in major flood (stage) across the region, and the Arkansas River is expected to exceed record flooding over the coming days," he added.
Several people have died and many homes have been destroyed over the past few days as a result of severe weather in the central U.S. At least six people were killed last week due to weather conditions in Oklahoma, according to CNN. Nearly thirty were injured by a tornado in the state over the weekend as well, with hundreds left homeless by the storm, The Guardian reported.
"While the threats for hail, damaging winds and tornadoes will continue on Monday, flooding is starting to become the most worrisome impact," Rathbun said. "The central Plains is already dealing with moderate to major flooding from all the rain this month."
Elsewhere, some Americans are bracing for snow. Arizona is facing unusually cold weather and is even expecting a blanket of snow.
"It's common for snow to fall in Flagstaff in April and May, but to have accumulating snow after May 26th is quite unusual," the office of the National Weather Service (NWS) in Flagstaff, Arizona said in a statement. "It's only happened eight times since we've been keeping records" back in 1898, the office explained.