Oklahoma City Black Man Shot and Killed by Police, Sparking Immediate Protests
Oklahoma City police officers were involved in a fatal shooting on Friday, in front of an Extra Cash Gold & Loan near West Hefner Road and Pennsylvania Avenue.
In an email sent to Newsweek, the Oklahoma City Police Department confirmed the man's death but did not release his name or identified the officers involved in the shooting.
"Officers responded to a call of a disturbance in the 2100 block of W Hefner Rd. around noon today in reference to a man bothering customers outside a store," the department said in its statement. "Upon arrival officers located a man matching the description who was holding a knife."
Police officials told KOCO 5 News that when officers first arrived to the scene, they encountered a man with a knife. As the man walked closer to the officers, they backed away and called for backup.
"He actually called for less lethal support," Capt. Daniel Stewart told KOCO News.
Though police did not identify the man, his family said the victim was Bennie Edwards, a Black man who was homeless and suffered from bipolar schizophrenia, according to KFOR.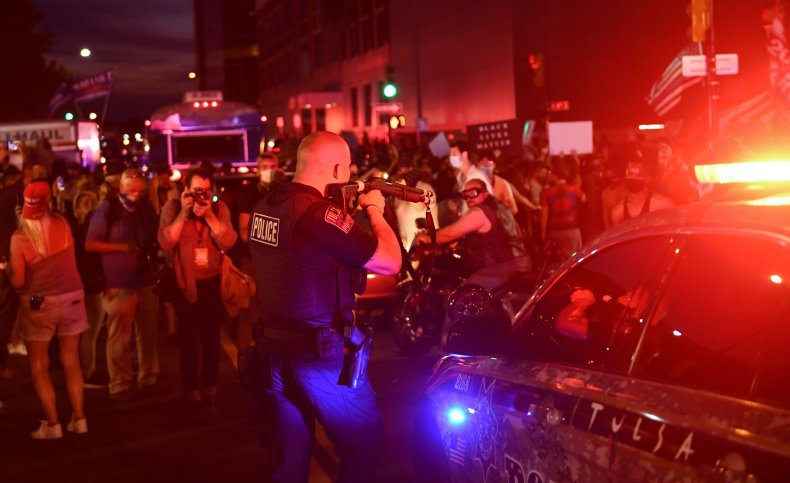 Videos of the fatal shooting were posted across social media showing the officers discharging their firearms as the man begins running towards them.
According to the statement sent to Newsweek, officers "attempted to deescalate the situation in an effort to get the suspect to drop the knife. Officers deployed a taser and OC Spray, both of which were ineffective."
"The suspect refused to drop the knife and ran toward officers at which time officers discharged their firearms and shot the suspect. The suspect was pronounced deceased at the scene," the statement added. "One officer sustained a minor injury, but is expected to be okay. Per our policy, the officers will be placed on paid administrative leave pending the outcome of the investigation."
Following the incident, many protesters flocked to the area where the shooting took place.
"Demonstrations have begun at Hefner and Penn after an officer involved shooting," Austin Breasette of KFOR News in Oklahoma tweeted, sharing a video of protesters arguing with police.
Warning: footage below contains some language that may be offensive.
Patrick Spencer, also of KFOR News, responded to Breasette's tweet, noting that "legal observers" from the American Civil Liberties Union (ACLU) in Oklahoma also arrived to the protest.
Newsweek reached out to ACLU Oklahoma for comment.
As tensions between police and protesters continued to rise, a number of tweets indicated that protesters were helping each other after "several people have now been pepper sprayed after a clash with officer"—according to another tweet from Spencer.
Warning: footage below contains scenes that may be disturbing.
Spencer's tweet was in response to a video that shows protesters continuing to argue and move toward police when one officer uses pepper spray.
Update (12/11/2020, 9:35 p.m.): This article has been updated with the identity of the victim.