There were no intensive care unit beds available Tuesday morning in Oklahoma City as COVID-19 cases surged in the area, a health official said.
A regional health system executive delivered the news to the Oklahoma City Council during a meeting about the city's mask ordinance, The Oklahoman reported. The council voted in favor of extending the mask requirement, which it first adopted July 17, until at least December 7.
The decision to extend the mandate comes as the city's health care system is under intense pressure from a shortage of nurses and daily increases in COVID-19 cases and hospitalizations. The health executive told council members that additional pressure was exerted by patient transfers from rural areas where people wearing masks "are laughed at," according to The Oklahoman.
As of October 13, 101,493 people in Oklahoma have tested positive for the novel coronavirus, an increase of 1,309 cases from the previous day. More than 1,100 people statewide have died as a result of the virus, according to the state's health department.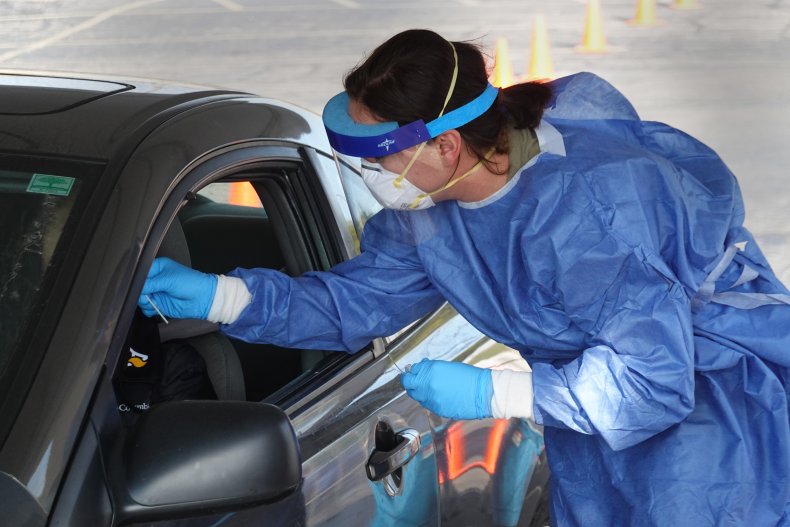 In Oklahoma County, which is home to Oklahoma City, a total of 20,822 people have tested positive for the coronavirus as of October 13, according to the health department. The county has reported 202 deaths connected to the disease.
Oklahoma City itself forms the majority of those cases—16,642—and deaths, according to the state's data. Cases in the city remained steady throughout the pandemic's early months but shot up in June and early July.
The city council enacted the mask mandate in mid-July, and cases began to decrease throughout August. They rose once more in early September, however, and have remained high ever since, according to a presentation shown to the city council Tuesday.
Coronavirus-related hospitalizations in Oklahoma County are also trending upward, suggests data from the OKC-County Health Department. On October 11, there were 219 people hospitalized for COVID-19 in all of the county's hospitals—the highest number seen in at least a month.
Current ICU hospitalizations in the county have also risen, the data suggests. On October 10, Oklahoma County saw its highest number of ICU patients in a month, at 84. And only 11 percent of adult ICU beds, or 114, remained available throughout the state on October 12, according to the state's health department.
The pandemic has become a "crisis across the state at this point," said Dr. Dale Bratzler, the chief COVID officer for OU Medicine, on Monday.
"As you know, the hospitals are starting to fill up, particularly in the Oklahoma City metropolitan area," he told local station KFOR. "There are still beds available, but ICU beds have been at a premium recently and there has been some movement of patients around the city to find open ICU beds."
Newsweek contacted the OKC-County Health Department for comment, but did not hear back in time for publication.