Oklahoma Execution Dates as State Plans to Kill Inmate Nearly Every Month
Oklahoma plans to execute a death row inmate almost every month through 2024.
The Oklahoma Court of Criminal Appeals set execution dates for six inmates on Friday, before adding dates for another 19 inmates.
Oklahoma Attorney General John O'Connor had asked the court in June to set execution dates for 25 inmates after a federal judge rejected a challenge to the state's lethal injection protocol.
The flurry of executions is set to begin with James Coddington being put to death on August 25, followed by Richard Glossip on September 22.
Execution dates for Benjamin Cole, Richard Fairchild and John Hanson have been set for October 20, November 17, December 15 respectively. Scott Eizember's scheduled execution is on January 12, 2023.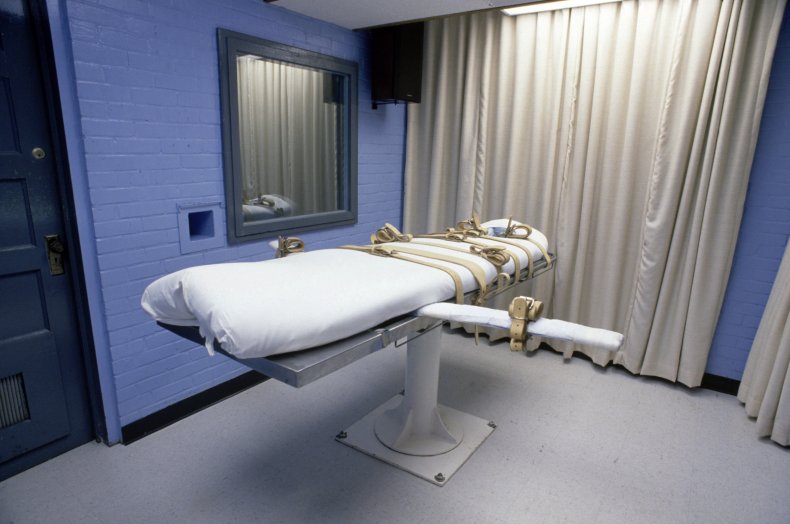 A second phase of scheduled executions are expected to see Jermaine Cannon put to death on March 9, Anthony Sanchez on April 6, Phillip Hancock on May 4, James Ryder on June 1, Michael Smith on July 6 and Wade Lay on August 3.
Another six inmates have execution dates between October 2023 and March 2024: Richard Rojem on October 5, Emmanuel Littlejohn on November 2, Kevin Underwood on December 7, Wendell Grissom on January 11, Tremane Wood on February 8 and Kendrick Simpson on March 7.
The final scheduled executions are expected to take place between May and early December 2024.
The execution of Raymond Johnson is set for May 2 followed by Carlos Cuesta-Rodriguez on June 6, James Dwight-Pavatt on July 11, Clarence Goode Jr. on August 8, Ronson Bush on September 5 and Alfred Mitchell on October 3. The last of the inmates set to be executed is Marlon Harmon on December 5.
Oklahoma resumed legal injections in October last year with the execution of John Grant, who witnesses said convulsed repeatedly on the gurney and vomited before he was declared dead. Three more executions have been carried out since then without noticeable complications.
Grant's execution ended a de facto moratorium on capital punishment brought on by concerns over the state's execution methods.
Richard Glossip, who was the lead plaintiff in the failed lawsuit challenging the state's execution protocol, was just hours away from being executed in September 2015 when officials realized they had received the wrong lethal injection drug.
It later emerged that the same wrong drug had been used to put Charles Warner to death earlier that year. These mix-ups followed the botched execution of Clayton Lockett in April 2014.
On Friday, Glossip's attorney filed for a new hearing based on an investigation by Houston law firm Reed Smith.
"Public reaction to this new evidence makes clear that Oklahomans, even those who support the death penalty, do not want to see an innocent man executed," attorney Don Knight said in a statement.
"We implore the Oklahoma Court of Criminal Appeals to strike Richard Glossip's execution date until this new information can be fully considered."
Several of the inmates scheduled for execution have strong innocence claims, severe mental illness and intellectual disabilities, their attorneys said.