In his latest re-election fundraising appeal, Oklahoma Governor Kevin Stitt blamed President Joe Biden's policies for Chick-fil-A's sauce shortage.
"Chick-fil-A has a sauce shortage. And you want to know why? Because of Joe Biden's radical liberal policies," the latest message from Stitt's campaign says.
"Joe Biden's policies have REAL WORLD CONSEQUENCES that he doesn't seem tuned to. He's more concerned about appeasing the woke liberals with his out of touch, radical, socialist agenda," the re-election campaign added.
The appeal asked supporters to donate to the governor's campaign to "make sure Chick-fil-A never has another sauce shortage."
Last week, the chicken chain said it would begin limiting the number of sauces Chick-fil-A is giving out to customers because of an industry-wide supply chain issue that has resulted in a "shortage of select items," including its famous sauce.
"We are actively working to make adjustments to solve this issue quickly and apologize to our guests for any inconvenience," the company said in a statement announcing that customers would being receiving only one dipping sauce cup per item.
Stitt's latest fundraising message also blamed Biden's policies for the recent gasoline shortage that has plagued the East Coast after a cyberattack involving ransomware force the Colonial Pipeline to shut down on May 7.
"Gas stations are having mass shortages, gas prices are soaring, the cost of groceries is going through the roof, and now Chick-fil-A has a sauce shortage. And who is paying the price? Everyday Americans," the governor's campaign said.
"Conservative governors are the absolute last line of defense," it added. "We're fighting to block liberal policies and promote common-sense policies to bring down the price of gas, to lower the cost of groceries, and to make sure Chick-fil-A never has another sauce shortage."
Stitt did not offer specific evidence as to how or what Biden's polices led to the sauce or gas shortage.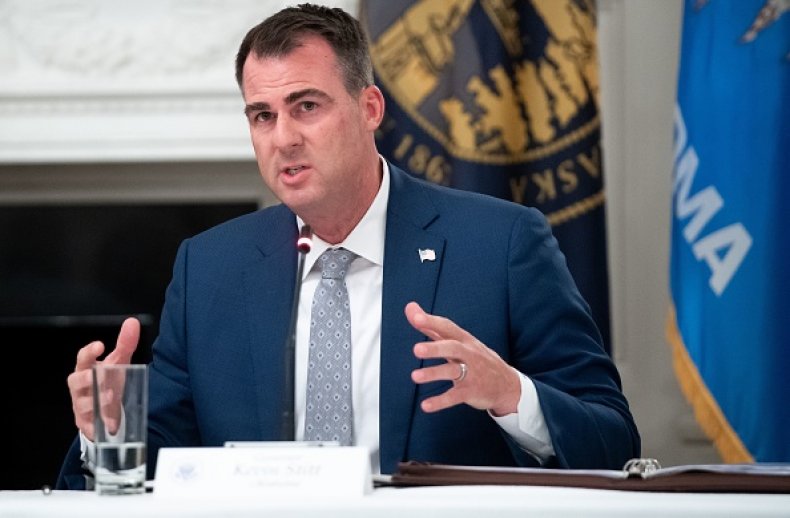 Stitt is running for re-election in the 2022 Oklahoma gubernatorial election. He will be seeking a second term. Currently, the only other declared candidate is former Republican state senator Ervin Yen.
The governor has been known for some of his provocative campaigning. Last week, he was seen grilling burgers under a billboard that referred to Stitt as a "meathead."
The billboard, posted by People for the Ethical Treatment of Animals, came in response to the governor's declaration that a week in March would be "Meat All Week," an effort to encourage residents to buy and eat meat.
However, the most recent fundraising efforts come days after Stitt was ousted from a commission set up to commemorate the centennial of the 1921 Tulsa race massacre, which signaled some disapproval over his role as governor.
Last Friday, the commission released a statement announcing that its members decided "to part ways" with Stitt. While no specific reason was provided for the decision, the announcement came after the governor signed controversial legislation that banned the teaching of critical race theory in the state's public schools.
Stitt's office said the governor only learned of the news after the statement was released and described his former membership as "purely ceremonial."
"It is disappointing to see an organization of such importance spend so much effort to sow division based on falsehoods and political rhetoric two weeks before the centennial and a month before the commission is scheduled to sunset," a statement from Stitt's office read.
Newsweek reached out to the White House for comment but did not hear back before publication.