Oklahoma Governor Defends Teachers Fired for Refusing to Follow 'Illegal' Mask Order
Oklahoma Governor Kevin Stitt called upon school districts across his state on Friday to consider hiring six teachers who were recently fired for their refusals to abide by a school district-imposed mask mandate.
Stitt described the Oklahoma City Public Schools (OKCPS) decision to terminate the teachers as "misguided" and said the mandate itself was illegal.
"They were fired because they wouldn't follow an illegal mask mandate issued by their superintendent," Stitt said. "This is preposterous. Especially in a time when talented teachers are needed more than ever."
Stitt went on to suggest that OKCPS Superintendent Sean McDaniel "wanted to fire them to make a point."
"Let me be clear: This is about a school district not following state law. This isn't a debate about masks," Stitt said.
Back in May, Stitt signed legislation blocking school boards from implementing mask mandates, a law that went into effect at the beginning of July.
On August 13, McDaniel penned a letter to the district community announcing masks would be required "on school property, in school vehicles, and at school-sponsored events" whether individuals were vaccinated against COVID-19 or not. McDaniel cited spiking COVID-19 case numbers within the first few days of school as one of the reasons behind the decision.
"The numbers we are seeing in our city and in our school buildings reinforce that this threat is not hypothetical," his letter said.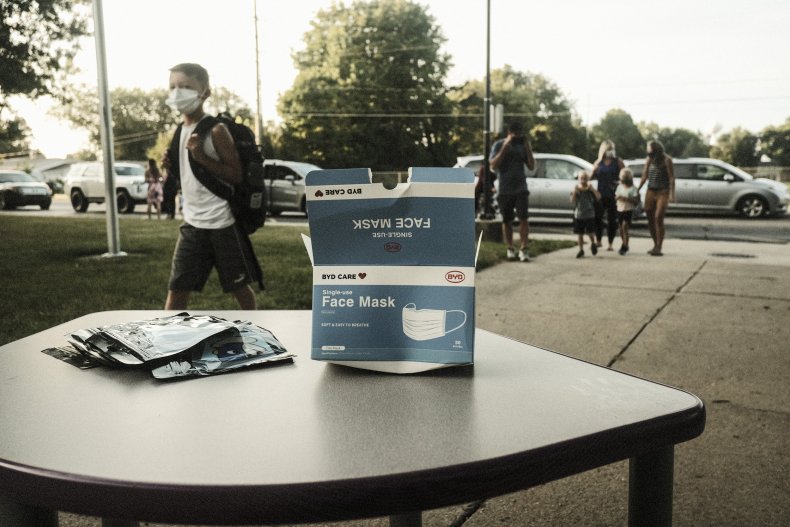 McDaniel said in his letter that while the law Stitt signed blocks school boards from issuing mask mandates, "the law does not prohibit the Superintendent and district administration from requiring the wearing of masks by our students, staff, and visitors."
The teachers found to be in violation of the district's mask requirement were told by the end of August that they were at risk of losing their jobs due to their refusal to wear masks, according to a statement OKCPS provided local media outlets.
"On September 24, 2021, the Court denied a request filed on behalf of the teachers and ruled that OKCPS can continue to require our staff to wear face coverings," OKCPS said in the statement, obtained by Oklahoma City-based KFOR-TV.
The district's board of education held due process hearings for each teacher earlier this week and "voted unanimously" to terminate them, the district's statement concluded.
Some of the teachers told the outlet that they intend to pursue legal action in the wake of their termination.
In his Friday message, Stitt encouraged McDaniel to reinstate the teachers and said that, if he did not, other districts in the state should consider hiring them.
"It's not too late to fix this. Shaun McDaniel should bring these teachers back to the classroom as soon as possible," Stitt said. "If not, I'm calling on other superintendents across the state to do the right thing. Do what's best for your students and hire these talented teachers in your district."
Newsweek reached out to OKCPS for comment.