Oklahoma Governor Kevin Stitt Grills Burgers Under PETA Billboard Calling Him 'Meathead'
Oklahoma Governor Kevin Stitt was seen grilling burgers on Wednesday under a billboard posted by People for the Ethical Treatment of Animals (PETA) that referred to him as a "meathead."
In a tweet posted on Wednesday, Stitt shared two photos of the billboards which read, "Oklahoma, home of the meathead Gov. Kevin Stitt."
As a caption to the photos, Stitt wrote, "Looks like a great spot to grill some burgers.…"
Later on Wednesday, Stitt posted a video on Twitter showing him grilling hamburgers under the billboard.
"Thanks to my friends at the Oklahoma Cattlemen's Association for a great night!" Stitt wrote. "As governor, I will ALWAYS stand with our beef, chicken and pork producers and protect and defend Oklahoma's entire agriculture industry."
In the video, Stitt can be heard saying, "Agriculture is such a huge part of our state. It actually employs 110,000 Oklahomans. We sold $5.3 billion worth of product last year so just excited to be out here to support them and kind of have a little fun at PETA's expense. We're gonna stand by our agriculture industry and our personal freedoms. And the freedom to go vegan if you want or the freedom to eat hamburgers if you want."
Michael Kelsey, the executive vice president of the Oklahoma Cattlemen's Association, is also featured in the video and can be heard saying, "We're proud of our meathead governor. He is our governor, and we are very proud of that."
The billboard erected by PETA came in response to Stitt declaring a week in March as "Meat All Week" following a decision by Colorado Governor Jared Polis' announcing a meat-free day in the state on March 20.
"While Governor Polis in Colorado declared today a "meatless holiday," next week in Oklahoma is MEAT ALL WEEK'," Stitt wrote in a Facebook post on March 20. "Do what you can to buy and eat protein. I can't wait to have a big juicy ribeye -- and I will always stand with our farmer and ranchers!"
In a statement announcing the "meathead" billboard in Oklahoma, PETA President Ingrid Newkirk, said, "Governor Stitt must have lard on the brain if he imagines that he can stall the vegan revolution by pushing people to eat more meat."
Shortly after Stitt was seen grilling hosting a cookout under the PETA billboard, Newkirk issued another response saying, "PETA is sending the governor a back brace, since he must be in agony from all the bowing and scraping he has to do to keep his meat-industry backers happy."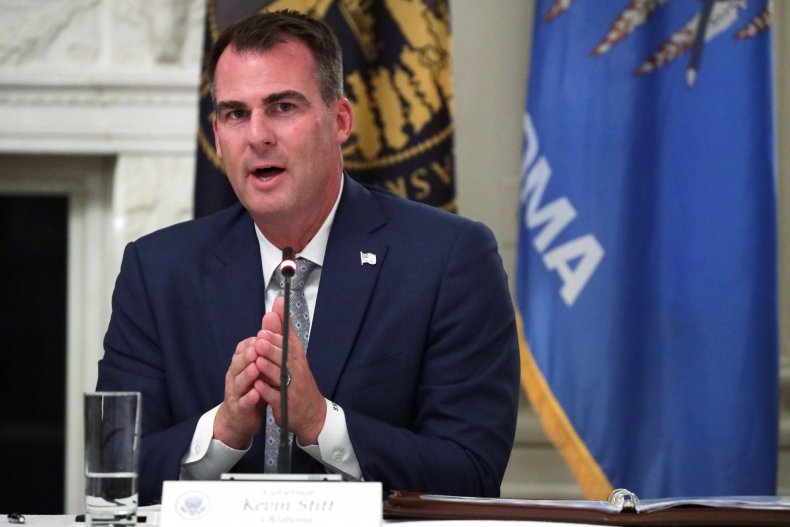 "His constituents who end up in critical care with cancer, heart disease, strokes, and other conditions associated with meat consumption deserve everyone's sympathy," Newkirk's statement added.
Newsweek reached out to Stitt and PETA for further comment but did not receive a response in time for publication.