Oklahoma Governor Orders Stop to 'Unauthorized' Issue of Non-Binary Birth Certificates
Oklahoma Governor Kevin Stitt said he never reviewed or approved a settlement agreement that allowed "nonbinary" as a listing option on birth certificates, ordering a halt to the practice on Wednesday.
Stitt told the State Department of Health to stop amending birth certificates in any way not authorized under state law. It also directed the department to scrub its website of any reference to amending birth certificates for nonbinary people, according to The Associated Press.
"This order ensures this unauthorized action will be corrected," Stitt's order states.
The department previously agreed to add a nonbinary option following a settlement agreement in a civil case. People who are nonbinary do not identify with traditional male or female gender assignments.
Stitt previously stated there is "no such thing" as a nonbinary identity.
"I believe that people are created by God to be male or female. Period," Stitt said in an October statement. "There is no such thing as non-binary sex and I wholeheartedly condemn the purported OSDH court settlement that was entered into by rogue activists who acted without receiving proper approval or oversight."
Kit Lorelied, who was born in Oklahoma but now lives in Oregon, identifies as nonbinary and uses they/them pronouns. Lorelied sued the State Department of Health after the agency denied a request to provide a nonbinary designation on their birth certificate.
The Office of the Attorney General represented the department in the suit, and both parties were able to settle in May. Lorelied was issued the new birth certificate that same month, and the department agreed to add a nonbinary option for the documents, the AP reported.
Lorelied's attorney, Christopher Brecht, said his client was very happy with the settlement and that he was surprised at the outrage from GOP leaders.
"I certainly don't understand the vehement objection to something like this," Brecht said in May. "I don't understand how this impacts binary individuals, so the swift opposition is surprising to me."
For more reporting from the Associated Press, see below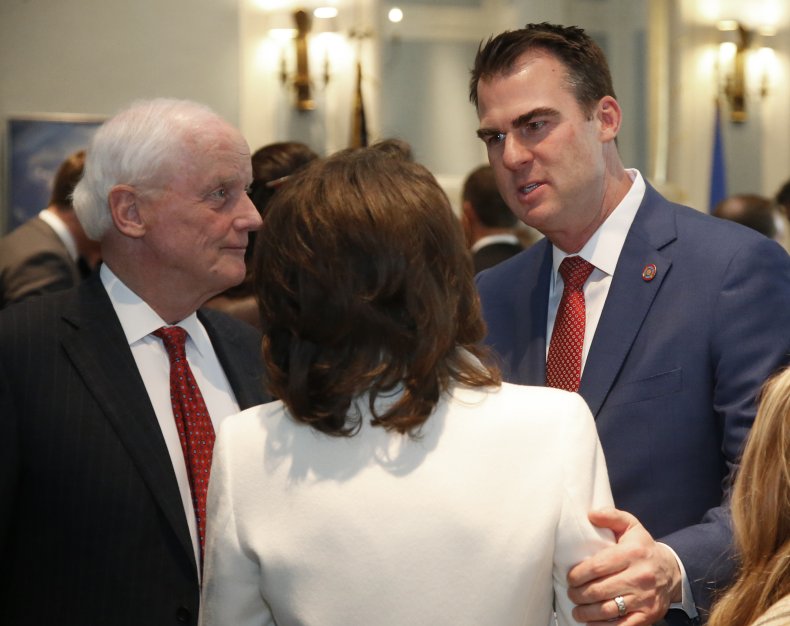 However, Stitt continued his fight against the designation Wednesday.
In addition to ordering the stop of nonbinary designations on birth certificates, he directed the Legislature to pass legislation when it returns next year to specifically prohibit the issuance of birth certificates with nonbinary designations.
Freedom Oklahoma, which advocates for nonbinary and LGBTQ people, said in a statement that while the state is facing scrutiny over how it carries out executions, "it felt easy for the governor to try and refocus media narratives and partisan pressure by attacking some of the most marginalized and historically excluded residents of our state."
Nichole McAfee, the executive director of Freedom Oklahoma, said the governor does not have the authority to overturn an agreement entered into in a court of law.
Stitt's office declined to comment, with a spokeswoman saying the order speaks for itself.
Brecht declined to comment on Stitt's new order, noting that the litigation is still an active case.
The Health Department issued a statement saying it would work with the governor and the Office of the Attorney General on any orders for amendments to birth certificates that fall outside the scope of current law.
The U.S. State Department announced last week it had issued its first passport with an "X" gender designation, marking a milestone in the recognition of the rights of people who do not identify as male or female, and expects to be able to offer the option more broadly next year.
Doctors and scientists say sex and gender are not the same thing. While sex typically refers to anatomy, gender identity is more an inner sense of being male, female or somewhere in between, regardless of physical anatomy, according to Dr. Jason Rafferty, a pediatrician and child psychiatrist at Hasbro Children's Hospital in Rhode Island and a lead author of the American Academy of Pediatrics' transgender policy.