Oklahoma Man, 28, Suffers Stroke After Cracking His Neck, Tearing Artery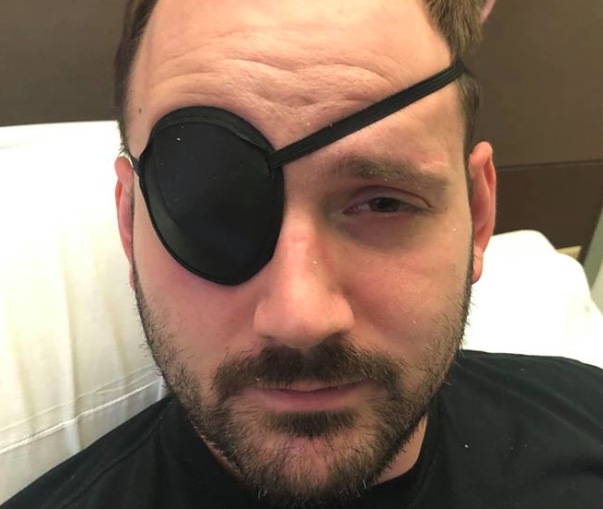 An Oklahoma man has been left with lasting injuries after suffering a stroke that occurred after he popped his neck—a motion which tore an artery and caused a clot.
Josh Hader, 28, of Guthrie, told local media outlet KOCO5 that he was rushed to hospital last month by his father-in-law after the crack, which left him unable to walk straight and with blurred vision. Hader, now recovering, said after hearing a pop his left side went numb.
The story has emerged as a cautionary tale—especially timely given this month marks National Stroke Awareness Month in the U.S. On Facebook, Hader posted updates from therapy. One showed him wearing an eyepatch as the crack damaged a nerve going to his face.
Dr. Vance McCollom, of Mercy Hospital in Oklahoma City, told KOCO5 the situation could have been fatal. He said the man severed his vertebral artery, which leads to the brain.
"[Hader] could have formed more clot on that tear and had a life-ending stroke. He could have died," McCollom said. "If you have a stroke in that area, you can end up with a patient who is locked in. They completely understand what's going on, but they can't communicate."
In an on-air interview published yesterday, Hader said he still had issues walking on his left leg, despite undergoing physical therapy sessions. He was also treated with medicine. "If you want to pop your neck, just kind of pop it side to side," McCollom advised. "Don't twist it."
On Facebook, Hader wrote late last month: "I cannot express how grateful I am for all the help I've received during this stressful time. My family is extremely thankful for all the prayers and good thoughts sent our way, as well as all the help with the financial side of things."
"This whole ordeal has really hit home with how blessed we are. I am still a long way away from being 'healed' completely but I'm impressed with how much progress I've made."
On April 27, the American Council on Science and Health published an explainer article after British newspaper the Daily Mail reported on a similar case involving a 23-year-old woman. It described the incident as high-velocity neck manipulation and a "freak accident."
"Rapidly twisting a person's neck can tear vertebral arteries, leading to internal bleeding. But this is extremely uncommon," wrote Alex Berezow, Vice President of Scientific Affairs.
Yet Healthline, a U.S.-based information website, warned online that cracking your neck can prove to be dangerous. "Your neck is home to many important blood vessels," it noted. According to the Centers for Disease Control and Prevention (CDC), stoke is the fifth leading cause of death in the U.S. It reported roughly 795,000 people in the U.S. suffer one every year—but they are preventable and treatable.
The American Heart Association, marking this month's awareness campaign, has urged the public to remember the acronym FAST for the four major signs of a stroke: Face drooping, Arm weakness, Speech difficulty and Time to call 911. "Time lost is brain lost," it warned online.