Teen Lovers Caught Plotting to Kill Disapproving Kin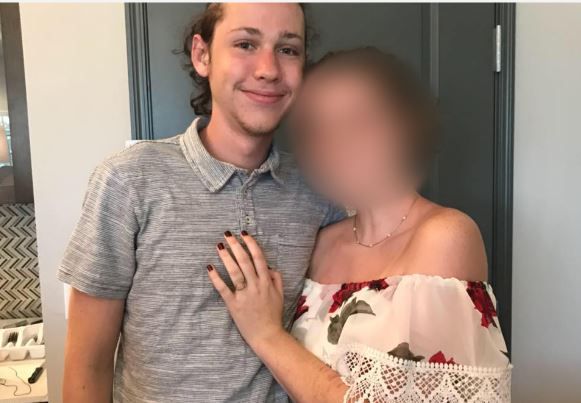 A pair of teenage lovers hell-bent on eloping allegedly carried out a craven scheme to off the girl's disapproving parents and older sister.
Zachary Sligar, 18, and his 15-year-old girlfriend allegedly toted loaded guns when they crept into her parents' Chandler, Oklahoma, home in the dead of night on July 20 and shot at the sleeping parents.
The bullet intended for the dad missed, but the mother took a bullet to the face and it went into her hand.
Now, with his son behind bars and facing triple homicide charges (the teens were also allegedly going to murder the girl's sister), Wayne Sligar said that the family has forgiven his son.
"I speak to [the dad] every day, and he still loves Zach," Sligar told Newsweek in an exclusive interview. "Both he and his wife know my son and know his heart."
Like the girlfriend's parents, Sligar frowned upon his son's nuptial plans.
"Maybe after college, they could get married," he said.
The father described his son as riddled with stresses after he was diagnosed with diabetes and also swept up in first-love euphoria.
"This is his first real girlfriend," the father admitted. "He was madly in love with her."
And those feelings may have taken over in this case, Sligar said.
"When you're in love and a girl gets in your head, every boy can do stupid things," he said before catching himself. "Not this bad."
The near-death attack took place at around midnight, when the Sligar family took a jaunt to Arkansas to be with his parents. Zachary stayed behind to work his McDonald's job.
"We had no clue," Sligar's dad said. "Friday morning we get a call from the sheriff's letting me know this, and I thought for sure it was someone else."
That night, Zachary Sligar's girlfriend's dad dialed 911, claiming that he thought his wife was shot.
"We don't know what happened," he told the dispatcher before providing her with his address, according to the released recording. "We think my wife may have just gotten shot in the face.
"We were just woken up by an explosion."
It was Sligar, armed with his girlfriend's dad's .45 caliber pistol, who allegedly fired multiple rounds at both her mom and dad before the pistol jammed, authorities confirmed.
The boy allegedly missed the dad, but one round struck his future mother-in-law in the face, Lincoln County Sheriff's investigators confirmed in an affidavit filed in Lincoln County District Court.
Sligar, who authorities reported was read his Miranda Rights, told authorities afterward that he met his girlfriend in high school and had been involved for five months. Wayne Siglar confirmed, "Zach was a junior and she was a sophomore."
The pair had been "talking" about "being emancipated for at least the past two weeks," according to the affidavit. The daughter then brought the idea up on July 19 with her mother, and "she did not agree."
This apparently "made Sligar and [his girlfriend] upset," the papers state.
Both teens were allegedly trying to kill to be free to love.
"We know the 15-year-old wanted to emancipate from her parents and marry her 18-year-old boyfriend," Lincoln County First Assistant District Attorney Adam Panter told Newsweek.
And it was the girlfriend's role that evening to eliminate her other progeny.
"Her intention was to murder her older sister," Panter explained.
Each teen was dead set that night on the vicious plot to terminate the girl's family because they vetoed their premature wedding bells.
"Her family was against it," Panter said.
The pair chatted on the phone the night before the bloodletting and allegedly "started planning how to kill [his girlfriend's] parents," the document states.
They allegedly ginned up the idea to "wait until everyone was asleep" to slay the parents and then swipe their "money and credit cards" before making a getaway, the papers say.
The idea of adding the sister as a third victim was mentioned in the papers as a twisted way to "give them more time to flee without the shooting being reported."
As midnight approached, Sligar received a call that his girlfriend's sister was asleep in her trailer, next to the family's home. A second call from the 15-year-old informed Sligar that her dad "just laid down" and then her mom turned in for the night as well.
The teenager allegedly informed his young lover that he armed himself with a buck knife and loaded his father's .32 caliber semi-automatic pistol that was intended "to shoot [his girlfriend's] sister," the affidavit reads.
The blade, which he allegedly packed in his shorts pocket, was meant to serve as a reserve in case "he ran out of bullets he could use it to stab his victims," the papers say.
When he arrived at the girlfriend's home, Sligar told authorities he parked off the house, and pulled a .45 caliber Highpoint semi-automatic pistol out of the girlfriend's dad's gun safe and filled the magazine with "7 to 8 bullets," the affidavit details.
As the pair approached the home, Sligar said that his girlfriend "chickened out" and lingered in the sleeping parents' living room.
"He then entered the parents' bedroom and "stood at the foot of the bed... pointed the firearm towards the headboard, using the weapon's sights, pulled the trigger once towards [her father] and pulled the trigger once towards [her mother]," the affidavit states.
Sligar apparently tried to squeeze off more rounds, but, the papers say, "the firearm malfunctioned."
The rousted father jumped out of bed and Sligar said he "got scared and ran out the front door" with his girlfriend in tow. As he fled, he managed to change his shoes and also drop the .45 firearm in the family's yard and misplaced the buck knife he was allegedly packing, the papers say.
He made it back to his home in Shawnee, Oklahoma, and hid the .32 pistol and the buck knife sheath "under a cabinet in his bedroom," the document details.
The mother suffered a gunshot wound to her jaw, one-half inch from her ear, Panter told Newsweek. She was rushed to Oklahoma University Hospital where her status has been upgraded from critical to stable but serious.
The seemingly bloodthirsty fiend that stands accused of trying to shoot the parents to death isn't the boy he raised.
"He has a heart of gold," Wayne Sligar argued. "This is not in Zach's nature in any way, shape or fashion."
The boy he raised "loves dogs and horses."
No doubt Zachary has been struggling over the last years, the father admitted.
"He got diagnosed with diabetes a couple years ago," he said. "He was frustrated and upset."
His son enrolled in a camp to help him manage his insulin levels.
The romance he struck up with his younger girlfriend was not fraught with fights or drama. "Their relationship was really good," his dad said. "Even her dad thought they had a great relationship."
Newsweek attempted to reach the girlfriend's father, but he didn't immediately respond.
Both Zachary Sligar and his 15-year-old girlfriend are facing three counts of conspiracy to commit murder, two counts of shooting with the intent to kill and assault with a deadly weapon charges, the affidavit stated.
But the 15-year-old may not be tried as an adult, depending on results from a series of tests, including a psychiatric evaluation, that she must complete, Panter confirmed. They are expected to be formally charged on July 30.
So far, the Sligars have only shared one face-to-face with their son at the Lincoln County holdup.
"We got to see him for a couple minutes but everything was being recorded," he lamented.
Meanwhile, the father said that he and the girlfriend's father sought a higher power to bring healing to the pain inflicted on both families.
And again, the father believes his son is being forgiven.
"They're hurt but they're still praying for him."