Official Cites Martin Luther King to Defend Himself Against Alleged Racist, Islamophobic Facebook Posts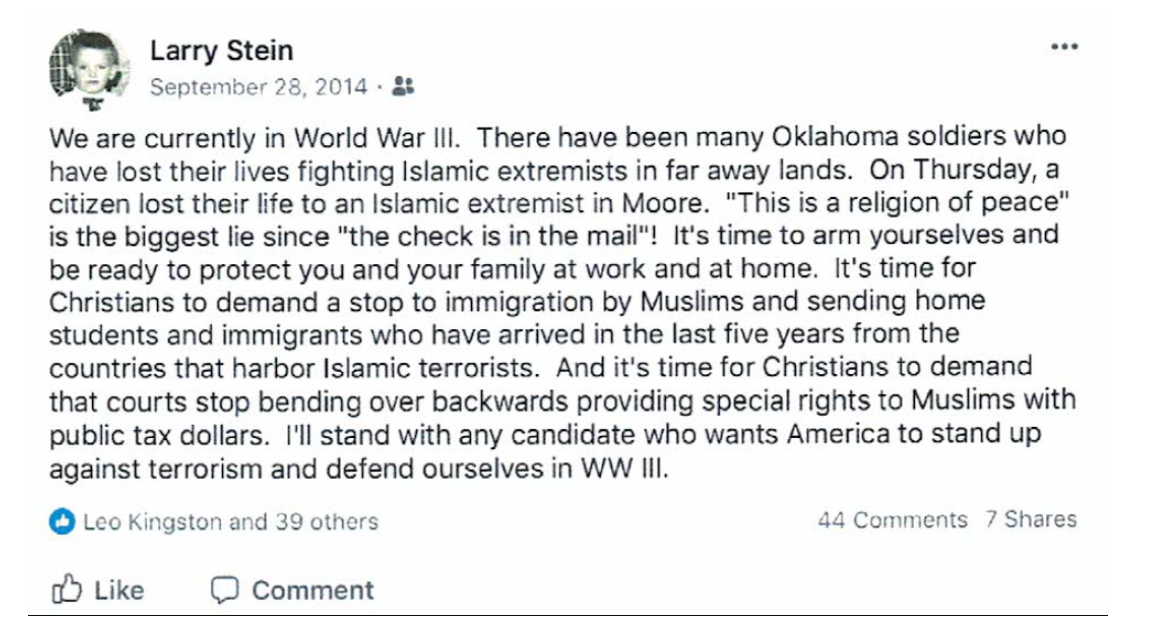 An Oklahoma official cited Martin Luther King Jr. in a quote to defend his comments he made about the Muslim community.
Oklahoma County Assessor Larry Stein made alleged racist and Islamaphobic comments in Facebook posts from 2014 and 2015, KFOR reported. In a Facebook post referencing the protests and riots in Ferguson obtained by KFOR, Stein called the protestors thugs.
"There hasn't been this great of a racial divide in America since the 1850's … Congrats to the thugs and animals in Ferguson," the post read, according to the outlet.
In a statement to KFOR, Stein defended his comments and said talk show hosts used the same words to describe the rioters in Ferguson.
"National radio talk show hosts and many others used the same word to reference the lawless, Ferguson rioters and law breakers. Great thinkers have written, 'Without laws, men are just animals,'" Stein wrote in a statement to the news station. "This type of lawless behavior is terrible and the same term would apply to everyone who is lawlessly rioting and destroying personal property, it's the lack of character, just as Dr. King warned."
In screenshots provided by the Council on American Islamic Relations (CAIR), Stein criticizes Islam in one post, telling his followers they should be protecting themselves.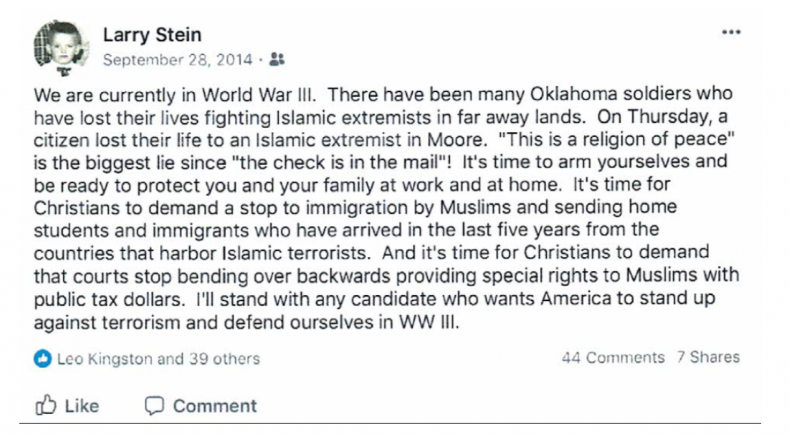 "It's time to arm yourselves and be ready to protect you and your family at work and at home. It's time for Christians to demand a stop to immigration by Muslims and sending home students and immigrants who have arrived in the last five years from the other countries that harbor Islamic terrorists," Stein previously wrote in a Facebook post from 2014.
In another post from 2015, Stein wrote about walking into a halal restaurant and questioned if they would cook pork for him.
"No shirt, no shoes, no service. Which ISLAMIC halal restaurant can I go to and demand they cook a pig for me?" Stein previously wrote.
Newsweek has reached out to Stein for comment on the Facebook posts but did not hear back in time for publication.
CAIR Oklahoma Executive Director Adam Soltani said in a statement that Stein has not responded to his previous Facebook posts and refused to meet with members of the Muslim community following the findings of these posts.
"The Oklahoma Muslim community deserves a firm commitment to religious tolerance from our elected officials through actions and not just mere words," said Soltani. "Assessor Stein's refusal to respond to multiple requests to meet with the Oklahoma Muslim community have sent a message that there is a lack of concern regarding his past hateful rhetoric."