Oklahoma Sees Record COVID Hospitalizations as ICUs at Near Capacity
Oklahoma has reached a record number of confirmed COVID-19 hospitalizations for the state, according to state health officials.
There are currently 568 patients confirmed to have the disease—and 55 suspected of having the disease—in the state's hospitals, the Oklahoma State Department of Health said on Thursday.
Intensive care units (ICUs) were reported to be at near capacity, with 16 percent (154) of adult beds available on Wednesday, according to the latest OSDH report.
Around 40 percent of those currently hospitalized (220 patients) were reported to be in ICUs on Thursday.
Less than one in five (19 percent) of medical surgery beds, and about a third (35 percent) of pediatric ICU beds were available, while 684 ventilators were available on Wednesday, the OSDH said.
The state's confirmed COVID-19 hospitalizations were reported to have remained in the 400s for most of September before rising to 522 on September 22, Oklahoma's KFOR-TV reported.
The total number of confirmed cases in Oklahoma has surpassed 88,300, according to the latest report Friday by Johns Hopkins University (JHU).
Active COVID-19 cases (those currently infected who are in hospital or recovering at home) have been on the rise since early June, data compiled by Worldometer shows.
Average daily new cases in the state remained flat from mid-March before increasing from early June. The highest daily case count was recorded on July 21 when 1,714 new infections were reported in a day. The seven-day moving average of daily new cases peaked at 1,093 on August 1, according to Worldometer's figures.
OSDH officials also confirmed four new deaths on Thursday, bringing the state's total death toll to 1,035, as of Friday, according JHU.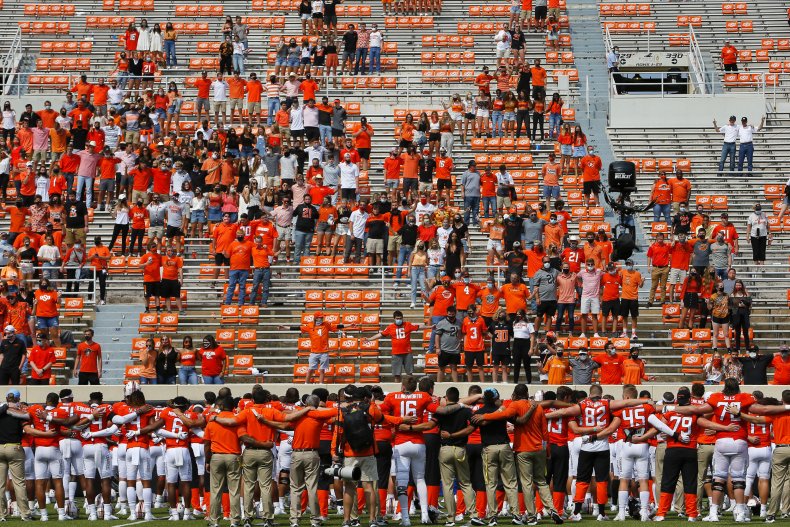 Average daily new fatalities have been rising since late June, flattening out from early August throughout September, according to Worldometer.
The state recorded its second-highest daily death toll back in August, with 19 reported on August 26. The number was just two below the 21 daily new deaths reported on April 21, the state's highest daily COVID-19 death toll on record.
Last month, a mask mandate in Norman, Oklahoma was amended to extend the definition of a "public setting" to include private homes and residences where more than 25 people gather.
The move was implemented after videos surfaced appearing to show off-campus gatherings at the University of Oklahoma—located in Norman—during the school's first home football game, which were said to have contributed to the rise in COVID-19 cases in the city.
The wider picture
The novel coronavirus has infected more than 34.3 million people across the globe since it was first reported in Wuhan, China, including over 7.2 million in the U.S. More than a million have died following infection, while more than 23.9 million have reportedly recovered as of Friday, according to JHU.
The graphic below, provided by Statista, illustrates U.S. states with the most COVID-19 cases.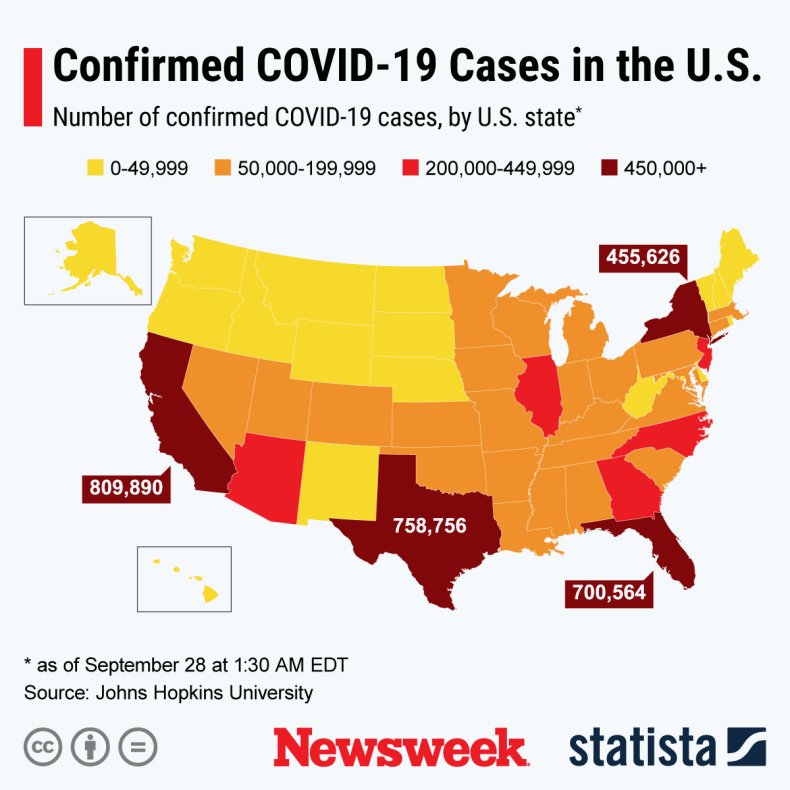 The graphics below, also provided by Statista, illustrate the spread of COVID-19 cases in countries across the globe.