Oklahoma Reports New Single-Day High in Coronavirus Cases
Oklahoma's Department of Health reported a new single-day record increase in coronavirus cases on Tuesday.
According to the state's department of health, there were 585 newly reported cases as of Tuesday, June 30, and at least two deaths. This brings the state's total numbers to at least 13,757 confirmed cases and 387 deaths. The 585 newly reported cases represent a 4.4 percent increase in the reported cases across the state.
The increase also marks a new high for the state's seven-day rolling average number of cases as the Oklahoma Department of Health reported 389.9 average cases per day. The state has seen at least 2,729 cases over the past seven days.
Across Oklahoma, the majority of cases have been reported in Tulsa County, where there are currently 3,424 confirmed cases and Oklahoma City County, with at least 2,913 cases.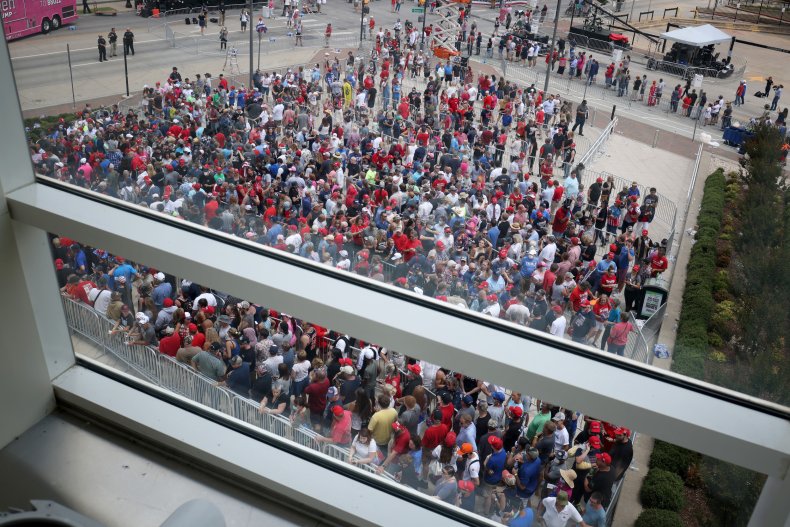 During a press conference Tuesday, Oklahoma Governor Kevin Stitt provided an update on the increasing cases saying that "as expected, as we reopen, our positive cases have been increasing."
"Just because we are back open, does not mean we can let our guard down against this virus," Stitt added.
Oklahoma's Commissioner of Health Lance Frey also spoke about the increase in cases and the latest trends.
"Today OSDH reported the largest increase in COVID-19 cases since the pandemic first arrived," Frey said. "In all, Oklahoma continues to be in a better position than many of our neighboring states and hotspots across the nation."
"Today's increase will not be the last one we expect to see over the next several days," Frey added.
The increase in cases comes shortly after President Donald Trump held his first campaign rally since the pandemic forced most of the U.S. to shut down for weeks. Following the event in Tulsa, Trump's campaign announced that eight staff members had tested positive for the new virus. Six of those members were reported prior to the rally and two others after.
The new virus, which causes the respiratory disease COVID-19, continues to spread across the U.S. as there are currently over 2.6 million cases across the country, as well as at least 126,628 deaths. In addition to Oklahoma, a number of other states have also seen spikes in cases over the past few weeks. States such as California, Florida and Texas, have decided to pause their reopening plans as cases continue to rise.
Newsweek reached out to the Oklahoma Department of Health for comment on the increase in cases but did not receive a response in time for publication.