Oklahoma Restaurants, Gyms and Churches Can Reopen May 1 If they Follow Social Distancing
Oklahoma's Republican Governor Kevin Stitt announced on Wednesday that dine-in restaurants, movie theatres, sporting venues, gyms and places of worship can reopen on May 1 if they follow social distancing and sanitation protocols.
Citing declining hospitalizations due to the virus, Stitt called the re-opening "Phase One" of a three-phase plan. He said the state would consider opening more businesses if hospital rates remain manageable for two weeks.
"We will do this safely, responsibly, and based on the data in the state," Stitt said.
During Phase One, Stitt said Oklahomans should generally continue social distancing by observing safer-at-home guidelines, avoiding nonessential travel and avoiding large social gatherings.
Places of worship are being advised to have volunteers and volunteers wear masks, not to serve food or drink and to keep their child-care facilities closed.
Stitt advised employers to devise plans so that employees can work in phases and shifts to avoid possible transmission. He also advised employee break rooms to remain closed and for employers to make special accommodations for any workers from "vulnerable populations" including those who are older, immunocompromised or have to care for children.
Personal care businesses such as barbers, spas and salons can also reopen by Friday, April 22 if they observe sanitation and social distancing practices. Additionally, they're encouraged to have customers wait for their appointments in their personal vehicles and to allow employees to take customer temperatures before they step inside the business.
"We need to continue practice social distancing," Stitt said. "Do our part. Wear a mask if you're in public."
Stitt said if the numbers of new coronavirus cases and hospitalizations increase, the government will "pull back" and reinstate stricter social distancing measures.
Newsweek has reached out to Governor Stitt's office for comment. His office had not responded by the time of publication.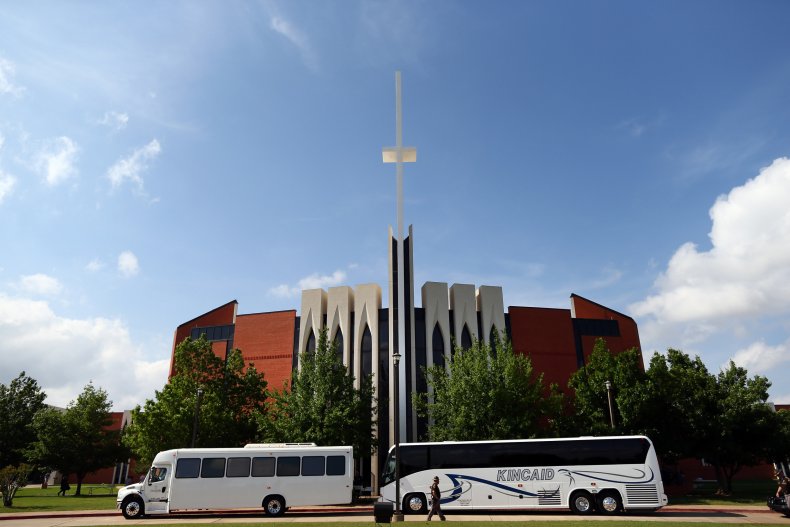 Oklahoma currently has 2,894 confirmed coronavirus cases and 170 deaths.
Stitt says the number of state hospitalizations had trended downward ever since its March 30 peak of 560. Although Stitt says 298 Oklahomans are currently hospitalized with coronavirus, he also said the state has a hospital bed capacity of nearly 4,500.
Stitt's announcement occurred during a press conference of his Solution Task Force, a group he established near the end of March to create solutions for handling the state's response to the coronavirus epidemic.
Members of Stitt's Solution Task Force include members of his staff and cabinet, interim State Epidemiologist Aaron Wendelboe, Brigadier General Tommy Mancino and Assistant Adjutant General of the Oklahoma National Guard.