To Keep Students Safe, Oklahoma Is Using Bulletproof Storm Shelters at Elementary and Middle Schools
As schools look for ways to protect students and teachers from the terrifying possibility of an active shooter on campus, an Oklahoma public school district is suggesting they install bulletproof storm bunkers inside classrooms.
First reported by KOCO5 News, Healdton Public School have shelters that can fit 35 students and two teachers in the event of a shooting or deadly tornado. Seven have been installed in the town's elementary school and two large ones at the middle school, district Superintendent Terry Shaw told Newsweek, adding that there are plans for at least two more at the local high school.
The Healdton district was one of numerous across America that investigated possible shooting threats in the wake of the Parkland high school shooting that left 17 dead in the Florida city.
"At the end of last week a student of the District, while attending a counseling session with a private counselor in another city, told the counselor he/she was going to go on a shooting rampage," Healdton Public Schools said in a Monday post on its Facebook page.
According to the district, the student did not mention the school, and the counselor contacted law enforcement. The ensuing investigation, with the cooperation of the district's administration "took appropriate steps to ensure that the student was not a threat to himself, others or the District."
Although the shelters might not be suitable for all schools, Shaw says he thinks schools "need to see them as an option." Shaw said he was initially drawn to the shelters for their tornado resistance, installing the first seven in the elementary school in 2014 and two in the middle school in May 2017.
Related: Students return to class for first time after mass shooting at Florida school
So far, there has not been any reason to use the shelters apart from drills, Shaw said, adding that it was a product "you hope never to have to use."
Healdton is not the only public school district in Oklahoma to install similar bulletproof storm shelters inside their buildings. In June 2017, local channel KFOR-TV reported that Atoka Public Schools installed six safety rooms in the elementary school, which the superintendent said could withstand a rifle round as well as some of the strongest tornadoes.
According to Shelter-in-Place, the company that installed Healdton's shelters, prices for the in-class 8-by-8-foot models start at around $30,000. KFOR reported that Atoka spent $400,000 on their six safety rooms.
When asked about the cost, Shaw referred Newsweek to Shelter-in-Place. A spokesperson for the company said that the price depended on the size of the shelter but that "it averages out to be about $1,000 per kid or about $25k per classroom."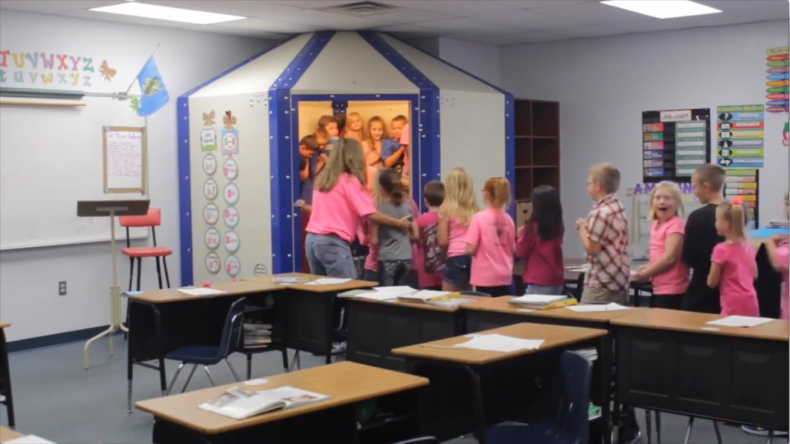 Shelter-in-Place recommends that school districts work with local banks to "establish a low interest lease" to pay for the safe rooms, adding that though schools can apply for FEMA grants, "this process can take several years to complete."
In a statement, CEO Jim Haslem said: "Like everyone else in America, we watched in horror the deadly shooting tragedy at Sandy Hook Elementary. And then, only a few months later, the deadly EF-5 Tornado that hit the Plaza Towers Elementary School in Moore Oklahoma.
"And now more recently, we're again incredibility saddened by the shooting at Stoneman Douglas High School. After seeing these crisis events and saying 'somebody ought to do something,' we realized that we are 'somebody' and we ought to do something."