Oklahoma Shooting: Armed 'Good Samaritan' Confronts, Kills Restaurant Gunman Before Police Arrive
A gunman who opened fire in an Oklahoma City restaurant was shot and killed by an armed citizen at the scene, police said.
Four people were injured in the shooting at Louie's Grill & Bar on Lake Hefner around 6:30 p.m. Thursday, including a young girl. However only the suspect died, after he was confronted by a civilian with a handgun outside.
Captain Bo Mathews of Oklahoma City Police Department told KWTV News the armed citizen was a "Good Samaritan" who "took the right measures to put an end to this terrible incident," though he had no further details about him at this stage. The man is cooperating with police.
Mathews said around 100 people were in the restaurant at the time and that all victims will be OK. Investigators are working to identify the suspect and his motive. No information about him has yet been released.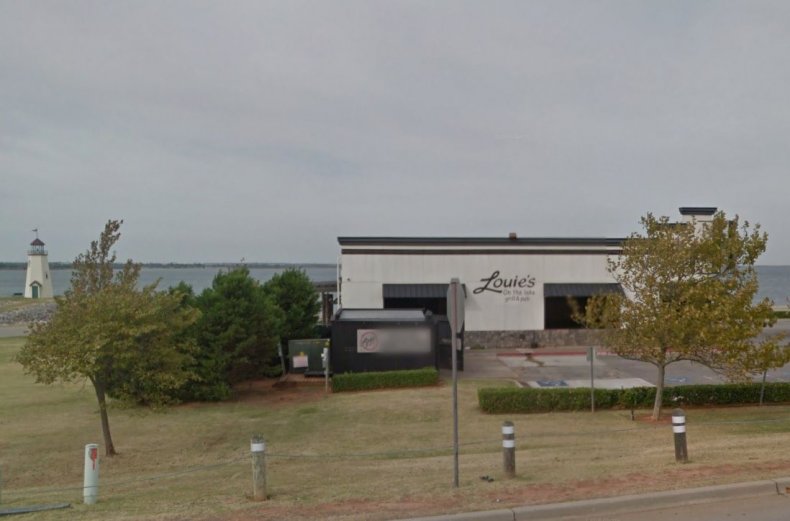 Mathews said an adult female and a juvenile female were taken to hospital for surgery after the shooting. Both—a mother and her daughter celebrating a birthday, KOCO 5 News reported—were shot but expected to survive.
Another man broke his arm after falling as he fled the shooting. Police later confirmed a fourth victim with a minor injury.
Oklahoma City police said it had identified a "large number of witnesses" at the restaurant. "There is no indication of terrorism at this point," police said.
Roy Benton, a witness who was dining at Louie's when the shooting unfolded, told The Oklahoman the shooter was wearing ear and eye protection as if he was at a gun range.
After the shooter left the restaurant, Benton said an SUV came quickly into the parking lot and the driver reached into the back of his vehicle for a weapon.
Benton then pointed out the shooter among some trees, who was "oddly pacing... and just looking around." People screamed and gestured at the shooter to put the weapon down.
"He must have made a move because shots began being fired. I got down behind a car, and I don't know exactly how many shots were fired but there were a few," Benton said.
"When I got up, he was down on the ground... and a police car was coming in at that time.
"So I made my way over there very quickly because I wanted the police officer to know that these three guys are good guys.
"There was a lot of chaos. The police officer showing up had no idea who was who...He handled the situation incredibly well. And the response time for the rest of the police department, they were there...almost instantaneously."