Oklahoma Sooners Squeak by Three Opponents in Very Rare Feat by a Top 10 Team
The Oklahoma Sooners clinched a spot in this year's Big 12 Championship game by winning its last three games in a way that's so rare it hasn't been done since 2000.
Oklahoma (10-1, 7-1 in the Big 12) won three consecutive games by four points or less—two of them against unranked teams. That alone isn't rare, but no top 10 team has done that since the Oregon Ducks in 2000.
Oklahoma, ranked No. 9 in the latest College Football Playoff (CFP) rankings, won three-straight games as a top 10 team.
Chris Fallica of ESPN, better known as "Bear" on the network's College GameDay road show, is a statistical guru and historian of the game who posted this tweet Monday night.
"After beating NR Iowa St by 1, 12 Baylor by 3 and NR TCU by 4, Oklahoma is the first Top 10 team to win three straight games by 4 points or fewer since 2000 Oregon. That year the Ducks beat 21 Arizona by 4, NR Arizona St by 1 and NR Washington St by 3.
Here is what Oklahoma did the last three weeks (CFP Rankings):
(10) Oklahoma 42, (NR) Iowa State 41
(10) Oklahoma 34, (13) Baylor 31
(9) Oklahoma 28, (NR) TCU 24
For measure, here's the Oregon three-game stretch in 2000 (AP Rankings):
(7) Oregon 14, (21) Arizona 10
(7) Oregon 56, (NR) Arizona State 55
(7) Oregon 27, (NR) Washington State 24
That Oregon team won another game before losing to in-state rival Oregon State. Oregon settled for a Holiday Bowl berth that season, where it went on to defeat Texas, 35-30. In an ironic twist, Oklahoma won the national championship that season, the last one in the school's illustrious history.
The current Oklahoma win streak comes follows a 48-41 loss to Kansas State, which is the only setback to the Sooners this year after starting the season with seven-consecutive wins.
Oklahoma moves on to face the No. 21 Oklahoma State Cowboys in the annual Bedlam rivalry on Saturday night in Stillwater.
The rivalry has been played since 1904, and Oklahoma has an 88-18-7 record in the series. The Sooners have won the last four matches, and 14 of the last 16 meetings. Oklahoma won last year's meeting in Norman, 48-47.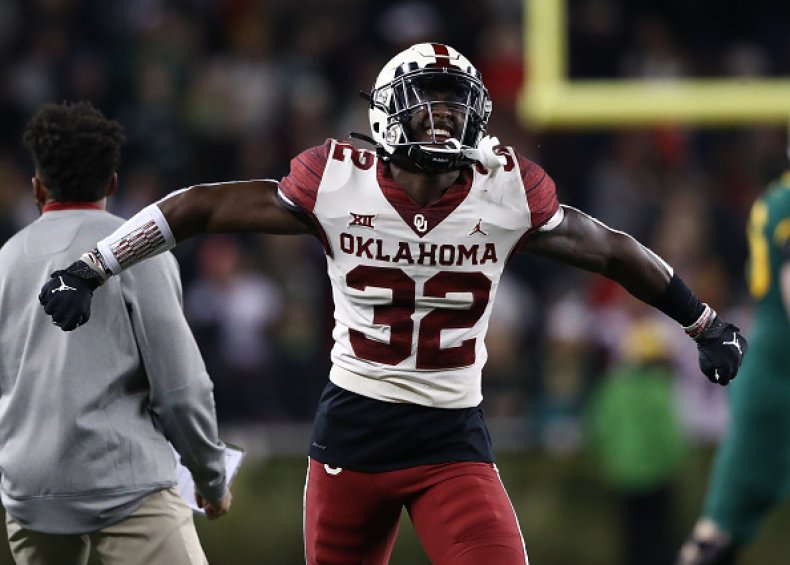 Oklahoma has an outside chance of making the CFP final four should it win at Oklahoma State and the beat Baylor (10-1) once again for the Big 12 title. Certain things may need to happen in front of the Sooners, though, if they want to reach the final four. Here are some things that could happen this weekend to favor Oklahoma.
No. 2 Ohio State loses at No. 13 Michigan
No. 3 Clemson loses st unranked rival South Carolina
No. 5 Alabama loses at No. 15 Auburn