Oklahoma Sports Announcer Heard Using Racial Slurs After Team Kneels During National Anthem
A sports announcer was overheard making racist comments as high school basketball players in Oklahoma kneeled during the playing of the national anthem on Thursday.
Video of the pregame anthem began circulating on Twitter Friday morning after the Norman High School and Midwest City High School girls' teams competed. During the first minute of the nearly 90-second-long video, the announcer can be heard making racist remarks about the students in reference to their decision to kneel on the court, a gesture widely seen as a silent protest against racism and police brutality.
Local media outlets began reporting about the incident on Friday, and school officials confirmed the announcer's behavior in a series of statements issued throughout the day.
Norman Public Schools said in its statement that the announcers involved were with the National Federation of State High School Associations (NFHS) Network. The district's superintendent said that the "racist and hateful" remarks were targeting Norman High School's basketball players and that the district will use a different livestreaming partner for future tournament games.
"We condemn and will not tolerate the disgusting words and attitudes of these announcers," Norman Public Schools Superintendent Nick Migliorino said in his statement. "This type of hate speech has no place in our society and we are outraged that it would be directed at any human being, and particularly at our students."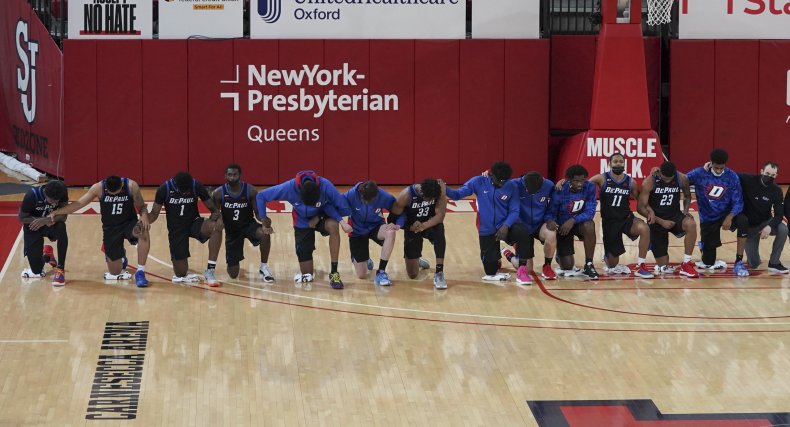 Migliorino continued, "We fully support our students' right to freedom of expression and our immediate focus is to support these girls and their coaches and families, particularly our Black students and coaching staff. It is tragic that the hard work and skill of this team is being overshadowed by the vile, malignant words of these individuals. We will do everything in our power to support and uplift our team and everyone affected by this incident."
Rick Cobb, the superintendent of Midwest City's Mid-Del School District, also slammed the announcer's use of racial slurs in a statement the district shared on Twitter.
"Language of this kind is an affront to the lessons we try to teach our students and the kind of world in which we want to live," Cobb said.
The NFHS said in a Friday statement that it was "sickened" by the announcer's behavior.
"The thoughts expressed in no way represent the NFHS Network and we are outraged that they found their way into our production," the NFHS said.
"The NFHS Network firmly condemns racism, hate and discrimination, and there is no room for this in high school sports or anywhere," the network added. Its statement went on to apologize to the school community and said it is "aggressively" investigating the incident. The network said it will also "ensure that any individuals responsible will have no relationship with the NFHS Network moving forward."
In a statement shared with Newsweek, the Oklahoma Secondary School Activities Association (OSSAA) said that it is also investigating the incident and that the announcing crew will not contribute to any other games "for the remainder of our championships."
"On behalf of the NFHS Network and the OSSAA, we sincerely apologize that this happened at one of our events. While we are currently investigating the incident, this crew will not be doing any more games for the remainder of our championships," OSSAA Executive Director David Jackson said.
"This kind of behavior will never be tolerated by anyone representing the NFHS or OSSAA," Jackson continued. "State tournament playoffs are a special time for our schools, their students, and their communities, and anything that is counter-productive to education-based activities will be addressed immediately and appropriately."