Teacher Holds Class on Oklahoma Capitol Lawn Amid Statewide Funding Protests
A statewide teacher walkout over funding in Oklahoma amassed in the state's capital city Monday morning, with one educator even bringing students to the Capitol building's lawn for his advanced placement literature classes.
The red-state education revolt has closed dozens of school districts across Oklahoma as teachers demanded that state lawmakers close the loopholes in a teacher pay-raise package passed last week. The Oklahoma Education Association teachers union, which helped organize the walkout, said the bill was a "down payment" that still needs to rework a $50 million education funding hole.
Edmond Memorial High School English teacher Regan Killackey said he was hosting his classes on the Oklahoma Capitol lawn in order to show students the importance of funding kids' education.
"This is a symbolic...way for the students to participate in their actual education," Killackey told KOKH-TV. "They decided they would come out and show support for the teachers and education for Oklahoma in general."
Dozens of tables and chairs were set up by students to allow for the AP language and AP literature arts classes to hold court in the State Capitol lawn among hundreds of other protesters.
Edmond High School's administration confirmed to Newsweek that Killackey and about 100 students made the brief trip from the Oklahoma City suburb to the downtown Oklahoma Capitol building for classes Monday morning. More than 82 Oklahoma school districts were not in session Monday, teachers union officials told KOCO-TV.
Killackey said students would speak on the need for more education funding in solidarity with the teachers after classes ended for the day.
"We're hoping we bring awareness and attention to this situation and that we have a long way to go," Killackey told KOKH-TV.
Killackey did not immediately respond to Newsweek's calls for comment Monday morning.
Various other demonstrations have taken place statewide as teachers, students and other allies looked to take on the Republican-majority legislature that repeatedly cut the state's education funding for the past decade. The Oklahoma Policy Institute reported that Oklahoma has slashed education funding by $180 million since 2008.
One teacher's husband, James Deming, created a video demonstration comparing the teacher strike to that of a firefighter. Deming and his son can be seeing playing the respective roles of a firefighter who doesn't get a raise for a decade, versus a legislator who votes to give himself a raise.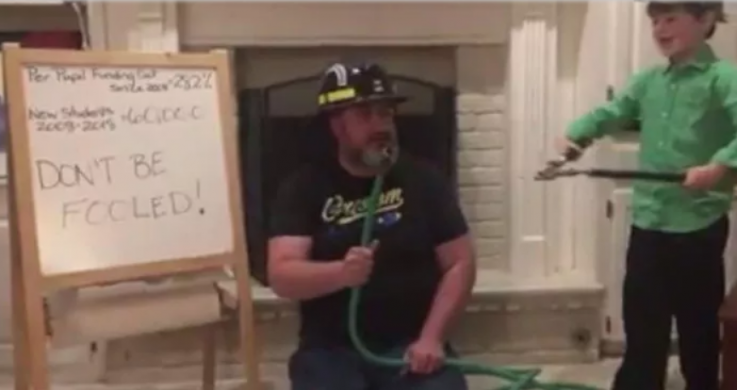 "Instead of talking specifically about teachers, I'm going to use another example, of a firefighter," James Deming said in the demonstration. "So I'm a firefighter, and in the last 10 years I have not had a raise."
"But not only have I not had a raise, I haven't had any new equipment either," Deming said. "Meanwhile, my city has grown by 60,000 people, new students in the past 10 years, 60,000 students, and I've had no new funding. Legislature, will you help me? I need a new hose and a raise."
"Gee, I can't afford that," said "the legislature."
The Oklahoma Policy Institute reported the state is losing an average of 200 teachers a month because they are unable to make ends meet amid the budget shortfall and poor salaries.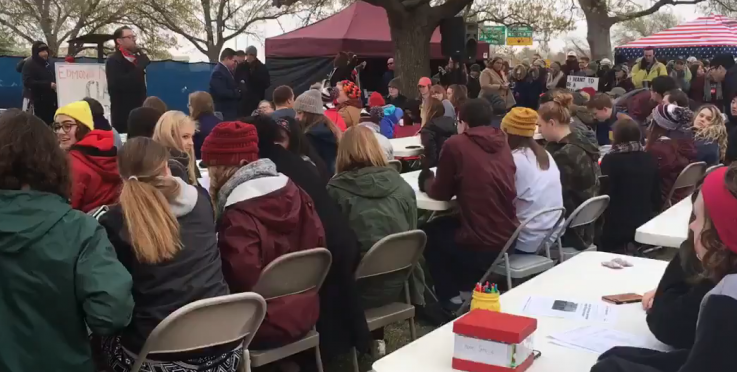 SaveSave
Teacher Holds Class on Oklahoma Capitol Lawn Amid Statewide Funding Protests | U.S.