Oklahoma Supreme Court Denies Emergency Injunction, Permitless Carry Gun Law Will Go Into Effect November 1
Oklahoma's controversial permitless carry law will go into effect on November 1, after the Oklahoma Supreme Court denied an emergency temporary injunction filed by Representative Jason Lowe, according to court documents.
Lowe said if the law takes effect "it will irreparably violate rights guaranteed by the Constitution and zealously protected by the Oklahoma courts," reports KJRH.
Lowe goes on to say in the court documents that the law could also permanently deprive plaintiffs/appellants of legal or financial recourse and endanger the public at large.
An Oklahoma County district judge denied the request for an injunction and determined that the law is constitutional and does not violate the single-subject rule.
The single-subject rule is a part of the Oklahoma Constitution that requires individual ballot initiatives and legislation to deal with only one main issue.
The Oklahoma Constitution states, "Every act of the Legislature shall embrace but one subject, which shall be clearly expressed in its title, except general appropriation bills, general revenue bills, and bills adopting a code, digest, or revision of statutes...."
The graphic below, provided by Statista, illustrates which states allow the permitless carry of guns.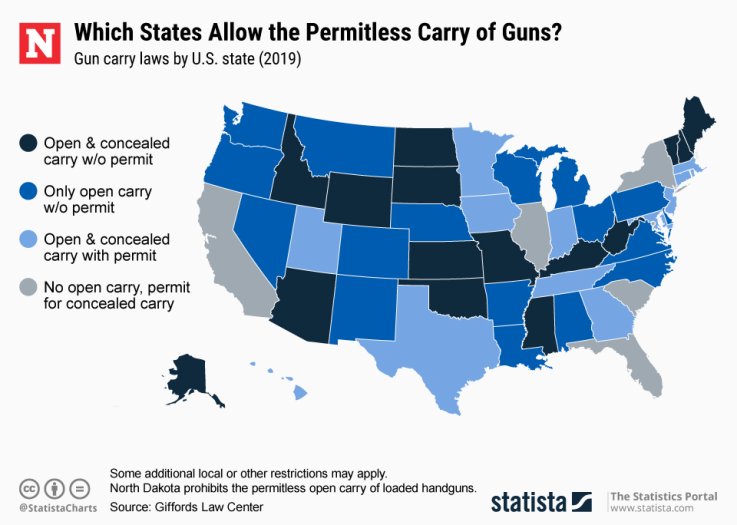 Oklahoma is one of 15 states that has approved "constitutional carry," or permitless carry, according to the National Rifle Association (NRA). It means most residents 21 and older will be allowed to carry a gun, openly or concealed, without any training, licensing, registration or background check required.
The measure was the first Governor Kevin Stitt signed after taking office earlier this year and goes into effect November 1.
There are only 3.9 million people living in Oklahoma but the state ranks fifth in the nation for most gun deaths annually.
In the last decade, an average of 589 Oklahomans died each year from guns. By far, the largest share of those deaths was from suicide, with an average of 405 Oklahomans who shot themselves from 2007 to 2016, according to the Oklahoma State Department of Health.
The rate of gun deaths has also been on the rise in the Sooner State. As disturbing as mass killings are as a national trend, it is the silent unfolding of suicides that is the larger public health crisis, in terms of lives lost. Between 2007 and 2016, 5,888 people died from firearms in Oklahoma; 69 percent took their own lives.
The Giffords Law Center gives Oklahoma an "F" for the strength of its gun laws. Studies show gun deaths among children and teens are twice as common in states with the most lax firearm policies.
While the data is incomplete, what's available shows a nearly 50 percent increase in the rate of child gun deaths over the past 14 years in Oklahoma, reports KOKH.
Since 2004, at least 358 children ages 17 and under in the state have been killed by guns.
As state legislators push for easier access to guns and the new permitless law is put into place, critics wonder what's being done to protect people in Oklahoma, especially children, from gun violence.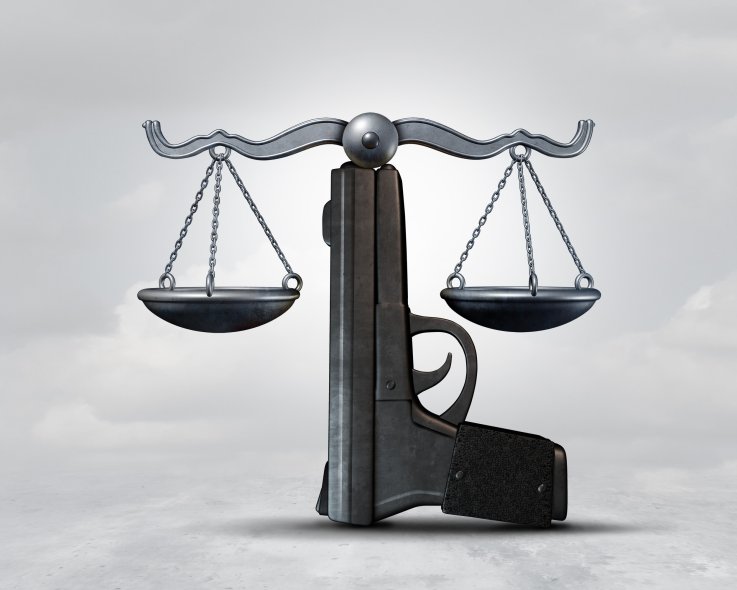 This article was updated with an infographic.
Oklahoma Supreme Court Denies Emergency Injunction, Permitless Carry Gun Law Will Go Into Effect November 1 | News