Oklahoma Supreme Court Temporarily Blocks 3 Anti-Abortion Laws Set to Take Effect Next Week
Three anti-abortion laws that were set to go into effect on November 1 were temporarily blocked by the Oklahoma Supreme Court on Monday.
The court voted 5-3 to prohibit laws that would restrict medication-induced abortions and require doctors who perform the medical procedure to be board-certified in obstetrics and gynecology.
"The Oklahoma Supreme Court recognized that these laws would cause irreparable harm to Oklahomans," said Nancy Northup, president and CEO of the Center for Reproductive Rights, in a media release. "All of these laws have the same goal: to make it harder to get an abortion in Oklahoma. We will continue to fight in court to ensure these laws are struck down for good. Politicians should not be meddling in the private health decisions of Oklahomans."
Earlier this month, Oklahoma County District Judge Cindy Truong also blocked a bill that would have deemed abortions "unprofessional conduct" by physicians and would have prevented the procedure once a fetal heartbeat is detected—usually around six weeks, which is before most people know they're pregnant.
Rabia Muqaddam, a staff attorney for the New York-based Center for Reproductive Rights, which challenged the five new Oklahoma laws, said the laws would severely limit access to abortion services.
Restrictions included in the abortion bill include requirements such as admitting privileges and ultrasounds that have previously been struck down by the Oklahoma Supreme Court, AP reported.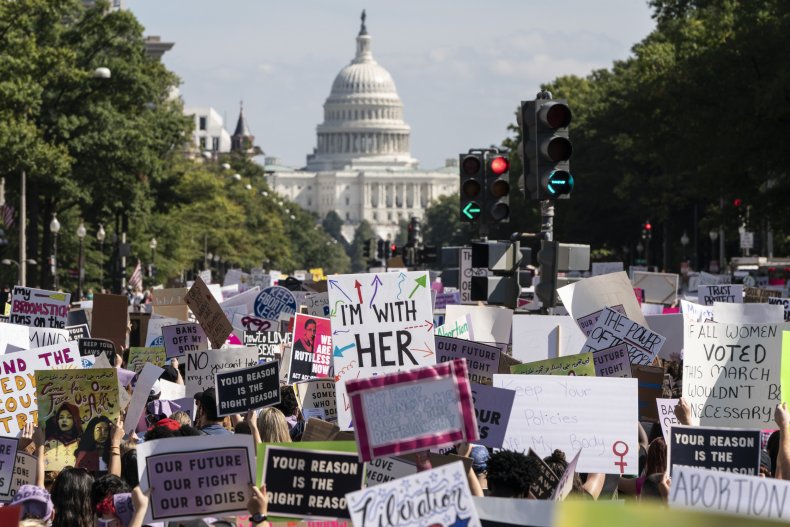 But Truong refused to block three of the five bills during the trial and left reproductive rights advocates to appeal the state's highest court to get all the laws banned. Their request came on October 14 and they asked the Oklahoma Supreme Court for a fast-track appeal.
"Oklahomans will face tremendous delays and costs in accessing abortion, and many will be entirely prevented from obtaining care in the state," the filing said. "The State's intent is clear—to limit and prohibit abortion access in any conceivable way."
State Sen. Julie Daniels, a Republican who sponsored the majority of the anti-abortion bills in the state, said the laws are to make abortions safer but ultimately, she hopes to save the lives of fetuses.
"My goal has always been to save the life of the unborn child and return these decisions to the states where they rightfully belong," Daniels said.
Patients from Texas, where abortions have been illegal since September 1 if medical professionals detect a fetal heartbeat, have already inundated clinics in Oklahoma, the lawsuit stated.
Eleven women from the state received abortion services at Trust Women clinic in Oklahoma City in August, but the number increased to 110 in September, according to Rebecca Tong, co-executive director of Trust Women. Other states like Colorado, Kansas, Louisiana and New Mexico are reporting similar increases.
Newsweek reached out to the Oklahoma Attorney General for comment.