Oklahoma Teacher Who Called Student N-Word Placed on Administrative Leave
An Oklahoma teacher was placed on administrative leave Tuesday, four days after calling a student the n-word during a classroom confrontation.
The unnamed female teacher and an identified male student were involved in the altercation at Holdenville High School on Friday, according to KWTV. A video of the incident posted to Facebook begins with the student pacing in the back of the classroom while talking on a cellphone, saying that he will "walk home." The teacher responds "I'm keeping you here" before the situation escalates.
The below video contains language some may find objectionable.
The video shows the teacher continuing to argue with the student and attempting to physically block him as he tries to leave the classroom and calls her a "bitch" in the process. The teacher grabs the student's backpack as he nears the doorway, prompting the student to warn "you better watch where you touch me" just before the teacher's racist outburst.
"You better get yourself over there, [n-word], do it!" the teacher shouts.
The classroom can be heard gasping in shock following the slur. The teacher then attempts to justify her choice of words.
"I asked you. I said, 'What would happen if I said it?' Right? And so, you didn't think it was ok," says the teacher, who is white.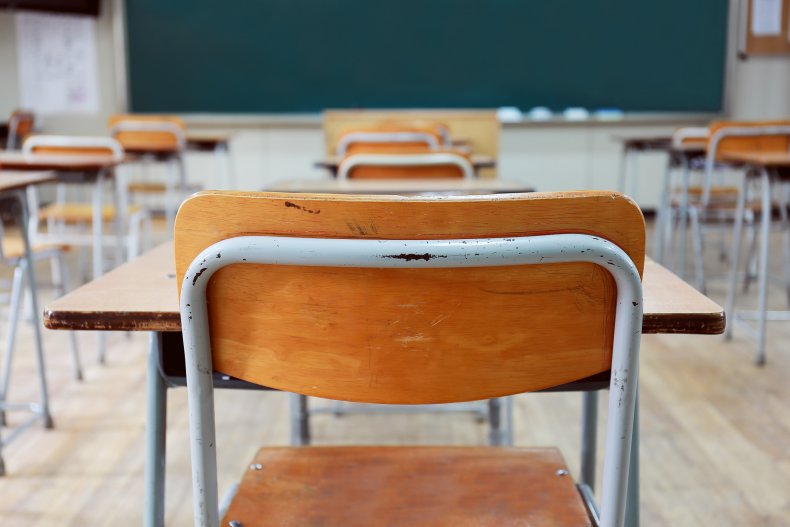 The student then grabs the glasses off the teacher's face, slams them to the ground and again says "bitch." The teacher asks students to "call the police." The student eventually leaves the classroom, with the teacher warning "I'm calling the cops" as he leaves before the video ends.
The teacher reportedly did not return to the school when classes resumed on Monday. On Tuesday, she was placed on administrative leave while a "full investigation" of the incident takes place.
"Holdenville Public Schools' main priority is the safety and well-being of our students," Holdenville Public Schools Superintendent Randy Davenport said in a statement. "The district is fully aware of the incident that occurred at our high school on Friday, April 9, 2021. At this time, the staff member in question has been placed on administrative leave and will be through the duration of a full investigation is completed."
Parents of some of the school's students were said to be outraged by the teacher's behavior. Shawna Jim, the aunt of one of the students, concluded that the teacher should find a new profession after her niece showed her video of the outburst on Friday.
"I want her out of the classroom," Jim told KWTV. "If she thinks language like that is acceptable or appropriate in a classroom full of students, I don't think she should be an educator."
Newsweek reached out to Davenport for comment.