Oklahoma Tops Its Largest Single-Day Increase in Coronavirus Cases by Nearly 300
Oklahoma's Department of Health reported a new single-day record number of coronavirus cases on Tuesday, topping a previous high by nearly 300 cases.
According to the state's department of health, there were 858 newly reported cases on Tuesday, July 7, which tops the previous largest single-day increase of 585, reported on June 30. At least five new deaths were also reported in Oklahoma, bringing the state's total numbers to 17,220 confirmed cases and 404 deaths.
Across Oklahoma, a majority of cases have come from Tulsa County, where there are currently 4,365 confirmed cases, Oklahoma County, with at least 3,819 cases and Cleveland County, with at least 1,157 cases.
The Oklahoma Department of Health also reported a new high for the state's seven-day rolling average number of cases, as the department reported 494.71 cases per day.
Coronavirus hospitalizations are also on the rise in Oklahoma, with the department of health reporting 426 new hospitalizations on Tuesday, the most the state has seen since April.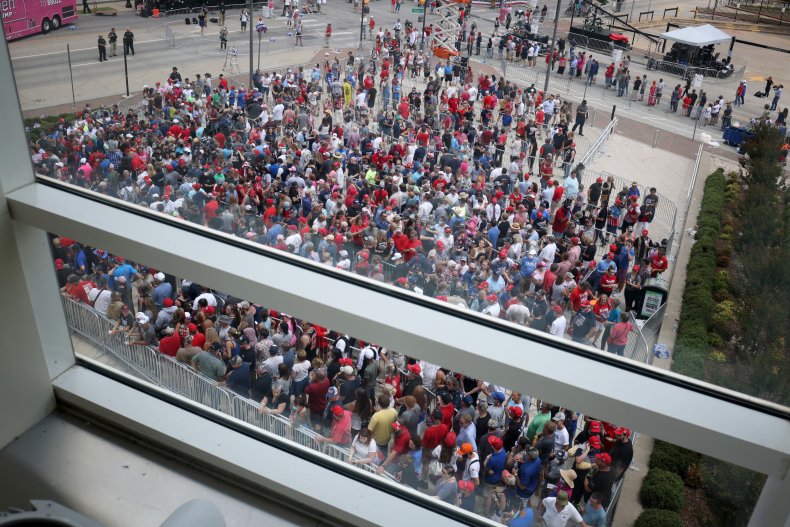 The increase in cases across Oklahoma promoted New York Governor Andrew Cuomo to add the state to New York's travel advisory list.
"Three more states have now reached the level of spread required to qualify for New York's travel advisory. We will now require individuals coming from Delaware, Kansas and Oklahoma to quarantine for 14 days. New Yorkers did the impossible—we went from the worst infection rate in the United States to one of the best—and the last thing we need is to see another spike of COVID-19," Cuomo said in a press release.
New York's travel advisory list currently has 19 states, and requires people traveling to New York from the different states listed to quarantine for 14 days.
"The quarantine applies to any person arriving from a state with a positive test rate higher than 10 per 100,000 residents over a 7-day rolling average or a state with a 10 percent or higher positivity rate over a 7-day rolling average," the press release adds.
Some of the other states on New York's travel advisory list include Florida, California, Arizona and Texas, all of which have seen spikes in cases over recent weeks.
The new coronavirus, which causes the respiratory disease COVID-19, continues to spread throughout the U.S. According to a tracker provided by Johns Hopkins University, there are currently over 2.9 million confirmed cases in the U.S. as well as at least 130,546 deaths.
Newsweek reached out to the Oklahoma Department of Health for comment on the increase in cases but did not receive a response in time for publication.